Praying Hands
by Albrecht Dürer
This work is in
the public domain.
We sometime think that prayers go unanswered
That though we pray our prayers are unheard
That we cry in vain to our heavenly father
So we wonder why we should even bother
But prayer is not like a wish sent to heaven
God is not a genie granting wish number seven
He is our Father taking care of us
He knows what we need regardless of our fuss
So when we think God is heedless of our request
We need to remember He is acting for our best
Sometimes we need a change of view
Things might look bleak to me and you
But God really knows what He is doing
We need His lens for our life to be viewing
Sometimes we can see it in the rear view mirror
The prayer that we prayed really reached the Hearer
He just knows all, so He had to say, "No,"
Even though He knew it would pain us so
Still He saw the then, not just the now
You'd make it through, though you knew not how
So when we think that God does not hear us
Even though we cry and make a big fuss
Even though we think it is our fervent plea
Remember that he cares for you and me
He knows what is best and he knows all our needs
And he cries with us when he hears all our pleas
For things that we know not how they should go
We just have to trust that He loves us so
And remember that we can know that he cares
Even when we think God has forgotten our prayers
© 2018 Michael T. Miyoshi
I know that poetry now is not supposed to rhyme
But I've been a rhymer for all of my time.
I like the meter, the flow, and the sound of a rhyme;
I might be a rapper, if my mind could find time
To say what it thinks in the time of a beat
That would be fun. That would be neat.
To hear the beat box and say what comes to mind
And have it make sense and have it all rhyme.
But unless the poem is a rap or a song
People these days seem to think rhymes are all wrong.
I should not complain and I really don't care
I like to rhyme, I like to talk to the air
I write poetry for my own sake, nobody else's
(But I do not think there's a rhyme for the word "else's.")
Still, I write and I rhyme just because I'm supposed to
After all, I believe they're what God calls me to do
So each day I write, and sometimes I rhyme
Then whether it's great or it stinks, I post it online
So whether you like it or not, I just do it
And for me there is just nothing to it.
So whether it's right or it's wrong to do rhyming
I like it when thoughts are said with some timing
I like the flow, the meter, the sound
Of a poem that has a rhyming sound
And even when I mess up and rhyme words with themselves
I still like to rhyme as if I was an elf
Or a poet with style and an audience
Or a writer who writes and makes any sense
Yes, despite what they might say about a poem that rhymes
I still like to write them for now and all times.
© 2018 Michael T. Miyoshi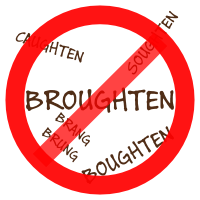 Bring. Brought. Have brought. NOT broughten. (Nor even brang, brung.)
Buy. Bought. Have bought. NOT boughten.
Seek. Sought. Have sought. NOT soughten.
These strange words and many others do not follow much logic in the way they go from present tense to past tense to past participle. (Or whatever the "have done something" tense of the word is called.)
The funny thing is that these non-forms of words show up in conversation. Not including those conversation that these words do not exist.
"She should not have broughten that dish to the potluck."
"He could have broughten more people in his car."
"We ought to have broughten Aunt Millie with us."
"I can't believe he has boughten that brand of soda again."
"You should have soughten out my advice beforehand."
Well, maybe I never did hear that last sentence, but I have heard forms of the others before. By educated people. Not just the ones trying to get my goat.
In reality, I do not care that people speak poorly. It is just that some words ought not make into the English language. And broughten is one of those. Sure it makes sense when compared to get, got, has gotten. Or even bite, bit, has bitten. But have broughten? Has boughten? Was soughten?
Ah well, with the collapse of spelling and punctuation due to texting and social media and the necessity to keep things simple and short, it was bound to happen. People will use whatever form of whatever verbs they need. Including ones that do not exist.
I guess I should not rail against the forces that be. The forces of society that morph language into something unrecognizable. The world has become smaller with the global economy and with that has come the inevitable change in language. Non-native speakers and even native speakers turn words into something they were never supposed to be. They make new words or change words or supplant the exceptions to rules by applying the rules to which they are exceptions (as if that makes any sense). Thus words like broughten and boughten enter the spoken English language like stealthy little moles and sooner or later, they enter the mainstream and end up as variations of the proper words. It is a travesty that I hope this short rant does not add to.
Ah well.
When it comes right down to it, broughten may only be spoken (usually inadvertently) at my house. Of course, never by me. (Oops. I think I heard somebody calling me a liar.) Regardless, broughten is not a word. At least not yet.
© 2018 Michael T. Miyoshi