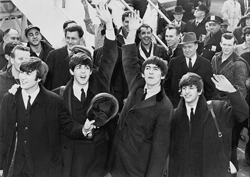 This work is in the public domain.
The Beatles are invading America again. Or at least they are invading my mind.
The past few weeks have been filled with Beatlemania. The original Fab Four were seemingly on every page of newspapers and magazines like they were fifty years ago. They even invaded my two Sunday crossword puzzles. It was nostalgic for those who were crazed teenagers back in sixties when The Beatles first invaded America. But for me, it was like I found a new music group.
Do not get me wrong. I have heard The Beatles since I was a kid, but for the past few weeks I have heard The Beatles morning, noon, and night. And I have not even had the radio on. I just keep hearing Birthday, Back in the U.S.S.R., A Hard Day's Night, and other songs over and over and over again. Just in my head. So much so that when I was at the library, I found a book with The Beatles's songs so that I could learn to play a few. Hopefully, to stop them from playing all the time.
I know it sounds counterintuitive, but I figured that if I learned how to play a few songs, I could go back to not having a hard day's night all the time. That every day would not be my birthday. That I would no longer want to go (for the first or second time) back to a country that no longer exists. I figured that if I put a few Beatles's songs in my repertoire, I might get them out of my head.
No such luck.
So far, learning to play a few songs has not stopped the music. I still hear chords and riffs and lyrics. Not like I play them, but like they were played by The Beatles. Still, even though my ploy has not worked, I hope to have a normal playlist in my head someday soon.
It is not that I really need to get The Beatles out of my head. I like them as much as the next guy. Certainly not as much as those who were crazed teenage girls back when I was just a few months old, but as much as most ordinary folks. Which is why I need to get them out of my head. I am just a normal person when it comes to liking The Beatles.
Fortunately, the fiftieth anniversary of The Beatles originally appearing on The Ed Sullivan Show only comes once. So eventually, I will not have their songs in my head all the time. After all, the anniversary hoopla, which has lasted for at least a month, will eventually end.
When it comes right down to it, I suppose a month of celebrating the anniversary is not nearly as long as all the hoopla lasted when The Beatles first invaded America. I was not old enough to hear that The Beatles had landed or to understand what their invasion meant to the music and cultural scene. I did not need to endure or get to enjoy (depending on your perspective) the many months or even years of Beatlemania. Which means that I do not get to look back with nostalgia. But like I said in the beginning, I do get to enjoy The Beatles like a new music group. And I get to enjoy the music non-stop.
I cannot stop the music no matter what I do. Maybe it is because of all the hoopla surrounding the fiftieth anniversary or maybe it is because the music is still relevant and popular today. Either way, the non-stop music is okay. When all is said and done, I am sure I can withstand the invasion of The Beatles.
© 2014 Michael T. Miyoshi
Some people think it would be cool to have their own personal sound tracks in life with music to match every situation and every mood. Personally, I get to live one better than that. I get to live in a musical.
My wife, The Mindboggling Mrs. Miyoshi, loves to sing. She sings along with the car radio. She sings on the couch and in the kitchen. Yes, she often makes up her own words (see Song Lyrics), but she loves to sing. So much so that instead of just having a soundtrack to her life, she makes life a musical.
The Mindboggling Mrs. Miyoshi does not limit herself to making up lyrics to songs she knows. She also makes up her own words and melodies to fit what she is doing or how she is feeling. And of course, there are times when real songs are apropos. So depending on the day or the time or just her mood, I often get to hear my wife sing songs from different musicals.
Sometimes, the different songs come from musical productions that the Mindboggling Mrs. Miyoshi was in when she was a kid. Which is why even though we live nowhere near the state, every once in a while, she belts out, "Oklahoma, where the wind comes sweepin' down the plain." I must confess that I do not know any other words or more of the melody because I have not seen the movie and my wife does not usually sing more than those few lyrics.
She was also in The Sound of Music as Gretl and likes to sing songs from that movie. I usually sing along because like many people our age, we watched the show every year when it came on TV. When Climb Every Mountain or Do-Re-Mi were sung, we would sing along and get the same emotions as we had the year before and the year before that. I still get a little choked up singing along or even just thinking of Captain von Trapp singing Edelweiss toward the end of the movie.
One song that I probably should not sing along with but find myself doing so is I Feel Pretty from West Side Story. We recently watched a YouTube clip where Maria sings the song and it made The Mindboggling Mrs. Miyoshi think that maybe she would like to give the show another try. She has said she does not really like it, but I think she wants to check it out again since she sings I Feel Pretty all the time. (She often puts other words in for "pretty." The lyrical outcome is usually quite humorous.)
I may not really have a soundtrack to my life. But with the real songs from musicals and the made up lyrics to the tunes of many songs and original lyrics and melodies to go with how my wife is feeling at any given moment, our lives really are quite the musical production. And that is just fine by me because I enjoy living in a musical.
© 2014 Michael T. Miyoshi
Bump · 15 February 2014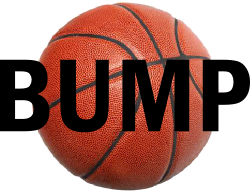 Sometimes I cajole and threaten my kids to go outside. They are so enthralled with their electronics that they often do not see the sunshine. But sometimes they jump right up to play a game of bump.
I know it has not been the sunniest of winters, but the sun has shined now and again. When it has been sunny for more than a few minutes, I have gone outside to enjoy it with a run or playing basketball. Yes, I have wimped out due to the temperature or rain, but on those occasions when it is fairly nice, I go. And I want my kids to join me in the sunshine.
Whether I am going on a run or going to shoot hoops, I usually ask my kids to join me in my outdoor activity. They usually dismiss the option out of hand, and sometimes they think about it for more than a second before dismissing the idea. But on occasion, they actually do join me. I am always gratified when they do.
Unless we end up playing bump.
Actually, I enjoy bump. It is a silly game, but it is enjoyable. Especially, since there is the chance that the most skilled person will not always win.
Bump is a basketball-like game. You use two basketballs and the free throw line. And two or more people can play it. The object is to be the last shooter standing.
Two people start with the two balls. One person lines up at the free throw line and the other lines up behind him. As soon as the first person shoots, the second can fire away. If the first shooter makes the shot before the second, he retrieves the ball and gives it to the next person in line. If not, he keeps shooting until he makes it (giving it to the next person in line) or until the second shooter makes it first. If the second shooter makes the ball in first, the first shooter is out. The next players line up at the free throw line and start the next round with one less person.
You would think that the person who is a great free throw shooter would tend to be a great bump player and it can be true. Unfortunately, when the first shooter lines up and takes a free throw with a nice arc, the second shooter can send a shot with a low fast trajectory and either bounce the first ball away or get the shot in before the first shooters ball descends from its flight path. That is one of the fun and frustrating parts of bump.
Yesterday, we played bump for hours. I was throwing up great free throws and should have won every round, but Thing 2 and Thing 3 kept throwing up shots that would knock my ball away or get in before mine. Or they would throw up shots that got knocked in by my ball. Thing 3 especially liked going second when I was starting so that he could do just that. He did it more times than I would have imagined possible. Still, I could not or would not change the trajectory of my shots. I made lots of free throws, but I also had a lot rejected by the missiles the boys were firing.
While getting ugly shots to go in before or with the help of beautiful shots had great entertainment value and caused much laughing, the part of bump that is most enjoyable is actually where the game gets its name.
As anybody who has ever missed a basketball shot knows, the ball bounces away in a predictable manner. However, when playing bump, the other shooter can make those bounces less predictable. As long as a shooter has his own ball, he can bump the other shooter's ball away. Sometimes far away. Being the youngest, sometimes Thing 3 does not use his ball like he is supposed to and just hucks the other person's ball away. Usually over the fence which is behind the basket. Then, he takes his time lining up the shot while the other shooter runs to get the ball. Even though he breaks the bumping rule, it is too much fun and we laugh too much to tell him to stop cheating.
Bump is a great game of shooting, running, and laughing. We have a blast. Probably because the game does not always go to the best shooter or fastest runner. And nobody really keeps track of how many times each person has won anyway. When the last man is standing, we just line up and start again. It is great fun.
I know that the kids do not jump right up to go outside with me. In fact, I am sure I will still need to cajole and threaten them to abandon their electronics from time to time even when the sun is shining. Still, I am glad to know that even when the electronics call, we can all go outside and enjoy a good game of bump.
© 2014 Michael T. Miyoshi