No matter what you do, sometimes stuff gets in the way of you doing it.
I love to write. (Much to the chagrin and dismay of people I know.) But sometimes, posting on my blog or working on a book cover or uploading my newest book to the publisher get in the way of actual writing. (I have a bunch of books on Amazon, if you have not already heard. Hint, hint.) Sometimes, these things are diversions I use to keep from writing. But more often than not, I have a great idea that ought to get written when I have other not-quite-writing tasks to do. Okay, the notion that I have any great ideas might be a stretch, but there really are times when I ought to be writing instead of doing whatever I am doing. Even when what I am doing relates to my writing.
Like today for instance. Instead of finishing my thoughts for this blog post, I am taking care of my dog who is up early. She is insistent that I take care of her. And since she is out of her crate, I need to listen to her whine and complain. Oh, I am not fussing over her too much, but she is interrupting my routine. Which is par for the course. Or rather, what I was writing about in the first place. (Except that taking care of the dog is not writing related.)
Do not get me wrong. I like to do the other things that are related to writing but are not-quite-writing. I like to create cover art. I like to look for photos that fit with my blog. I like to upload my books to the publisher. (Did I mention that my books are available on Amazon?) But I have a limited time budget, and I would actually like to write during my writing time. I want to be creative with the written word. (I know some of you are rolling your eyes at that one.)
Regardless of the diversions that I create for myself. Or the urgent tasks that get thrust upon me. (I am making the dog wait for her meal, lest she starts thinking she is training me to change my writing time to her eating time.) Or the necessary not-quite-writing tasks I must do for my writing. Regardless of all of these, I do write. I write six days a week. Even if it is just a few words.
I know that we all have tasks that we must do for our jobs that really have little to nothing to do with our jobs. There is unnecessary paperwork that is deemed important and urgent. There is the dog to be let out and attended to. There is something not done yesterday that needs to be done today even though it was not important yesterday either. Still, we must get those jobs done. We must do the things that we must do. Even when they are not the most important part of what we do.
So like it or not, I must do the not-quite-writing tasks (and the dog-related tasks) that need to get done. Despite the fact that they often take away from my writing time.
Just like everybody else, sometimes stuff gets in the way of getting the real stuff done.
© 2016 Michael T. Miyoshi
Grief · 21 May 2016
Grief is a funny thing. Not funny, ha ha. But funny, strange. The strangest thing about grief is that it is different for everybody.
I wonder a lot about the grieving process. I know that somebody really just observed enough people to see that the steps through the process are really the same for everybody. Denial, anger, bargaining, depression, and acceptance are all part of what everybody goes through. Some people take longer to get through each step than others and may go through them at different times, but they usually go through each of them. Even so, I wonder about where the crying fits in.
When Dad died, I was not finished crying, but I thought I was not crying enough. My earthly father had just died and I felt like the world had come crashing down around me, but I never really sobbed uncontrollably or for long periods of time. True, I had been crying for months before it happened. Not truly knowing that the end was near but fearing for the worst. Now, I tear up when I see pictures of my dad. But still, I wondered and still wonder why I have not cried more. I will never forget my dad and I hope to keep the values he helped instill in me, but I wonder if I have moved on too quickly in my grieving process.
Mom wonders the opposite. She wonders when she will stop crying. When the hurt will subside. She said that the pain and emptiness will never truly go away, but she wonders why she is still crying. Sobbing because she misses the love of her life. All of us kids tell her it is okay. That the pain is a sign of life. That the empty feeling will subside even if it never goes away. And we tell her that we are still here. We need her and we love her. We know we cannot replace our dad, but we know we can love our mom and help her to heal. Help her through the painful grieving process.
The more I think about the process and the crying, I realize that I have gone through much of the process already. I do not like the fact that my dad is not here to give me a hug or advice or just a listening ear. I do not like that we do not get to spend time together anymore. At least not on this earth. But I realize that I might not be crying so much because I know my mom is crying so much. I can cry with her but I can also be strong for her. It is not a conscious thing. I am not stifling my tears. Mine are just fewer than hers.
When it comes right down to it, I know that I need not feel guilty that I am not shedding more tears. Nor should my mom feel silly thinking she has shed too many. We will always miss Dad, and the tears will come unbidden. That is just the way it is. Grief is just funny that way.
© 2016 Michael T. Miyoshi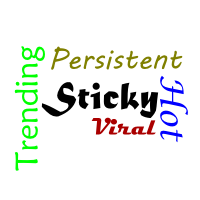 Sometimes you just need to throw stuff out there and see what sticks. Okay. That is what I always do with my blog. And believe it or not, some stuff has actually stuck. All of it really. After all, the internet is forever. Whatever you put out there on the ole World Wide Web stays there forever. Regardless of what they say. But that is a topic for another day. Rather, was a topic already. I really just want to talk about stickiness.
If anybody really knew what sticks out there, he or she would already have written a book about it and made tons of money. (I would have said bucu bucks, but who knows how to spell bucu anyway?) At any rate, the person would have fooled the masses into thinking that he (yeah, I know that all charlatans are not male, but…) knows the answer to what people think is it. But in reality, nobody knows. Nobody can predict what blog will be followed or what video will go viral. All that people know is that when somebody or something does go viral, people flock to see what all the fuss is. And it goes more viral. (If that is a thing.)
Sometimes, the fuss is legitimate and sometimes not. Today's social media craze is full of one hit wonders. Some of them are laughing all the way to the bank, and some just wonder what hit them.
(By the way, this is not a post to see how many trite phrases I can use. Even if it seems like it. I already did that one too.)
So what really defines stickiness in the first place? I wish I knew. There are books out there discussing this very topic. Some are full of good thoughts. Others are just taking up digital space with their ones and zeroes. Or maybe even taking up valuable book shelf space that could be used for legitimate tomes like War and Peace or Sense and Sensibility or my favorite book to hate, Wuthering Heights. Do not get me wrong, there is certainly a place for books that I love to hate or that I never got past the first couple pages even if they were assigned by a professor but I had notes from a friend that got me through the final test. There is definitely a place for them. It is called the recycle bin.
But seriously, if you read all the books about all the theories about how trends are created, you would find one thing for certain. Nobody really knows how to create a trend. People can have great success in creating the next great mousetrap or writing the next great novel. But success can be fleeting. And going viral on the interweb (something every blogger, videographer, musician, and other type of wannabe wants) is something that nobody can predict. Regardless of what the book jackets or promos tell you.
Which is why, we all just need to throw stuff out there to see what sticks. Artists may never be recognized for their greatness in their own lifetimes anyway, so why worry about going viral or getting accolades? Just do what you love and keep throwing stuff out there. Then hopefully… hopefully, somebody will see it. Hopefully, somebody will recognize you for it. Hopefully, some of it will stick.
© 2016 Michael T. Miyoshi