What do you get for the woman who has everything? A blog post, of course. Unfortunately, with The Mindboggling Mrs. Miyoshi, that does not cut it. Still, perhaps it is better than nothing.
Actually, I know that a blog post dedicated to my wonderful wife, is not better than nothing. It is actually a lot worse than nothing. (I am sure I heard her call me a liar again.) Even though she has everything anybody could ever want, she still needs a tangible gift. And time. (But that is another story.)
The Mindboggling Mrs. Miyoshi usually has a suggestion or two on what to get her for her birthday. A new car. A hot tub. A sauna. Or a greenhouse. She got a new car more than ten years ago and we live in a green house. What more could she ask for? Actually, she usually does not ask for much. She does not really like jewelry (even though she always seems to wear the pendant and ear rings we got her for Christmas a few years ago), and she has just about everything anybody could want. Except a hot tub, a sauna, and a greenhouse. (Apparently, living in a house that is green is different than having a greenhouse in the back of our green house.) Suffice it to say, she is not getting a hot tub, a sauna, or a greenhouse this year for her birthday (unless a lot more of you dear readers are funding me now).
At any rate, I am writing this the day before her birthday and I am still not sure what to get her. Besides this blog post. (Which I am sure she will not appreciate. Even though I am not poking fun at her. Not really anyway.)
So what do you get for the woman who has everything? Some electronic gadget. (By the way, do not look up electronic gadgets for women on the internet. You might be surprised at what you see. I sure was.) My wife loves gadgets, but she already has an iPad and an iPhone. The only thing she is missing is an iWatch, or whatever they call those watches made by Apple. (Those Apple watches and fitbits and cameras and other expensive toys are what show up with that search, if you were curious but heeded my warning and did not look.) I would love to just go out and get her any of those things, but alas, the pockets are not quite that deep yet.
So what am I going to get for the woman who has everything? I am not sure yet. I am thinking that a coupon for yard work, cleaning toilets, or doing something on my long "honey do" list will not cut it this year. Even though she loves me to do projects. I suppose it is just that she expects those things already so giving her a gift certificate for them is redundant and unnecessary. And definitely, not a gift.
So what am I going to get for the woman who has everything? At the very least, I have this blog post. Unfortunately, I am sure The Mindboggling Mrs. Miyoshi will not think it is better than nothing. So I better think of something quick.
© 2016 Michael T. Miyoshi
We were talking about higher education and how to help Thing 2 get through college without too much debt (ours and his), when we ended up talking about GoFundMe.com and other crowdsourcing. Not being one to miss the opportunity to promote myself, I said, we already have a way to beg for money. It is called Amazon.
Do not get me wrong. I believe there are legitimate reasons to use crowdsourcing. And I do not really think it is begging. At least not always. I just happen to think that our not saving enough for our children's educations is not a reason for looking to others to fund them. Of course, if they were selling stocks in themselves, it might be a good investment, but that is a different story.
(Far be it for me to complain, but the cost of higher education is getting out of hand. The state schools seem to be competing with the private schools for who can charge the most for degrees. Although the private schools do seem to have money to give to make them closer to the cost of state schools. Go figure. Anyway. I am sure much of it is inflation over the past thirty years, but I know that my quarterly tuition was only triple digits not five. True, it more than doubled when I was there, but again, that is a different story.)
So while asking people for money is always an option, it does not seem either practical or efficient. And even if begging online is not very personal, it is still begging. Which is not something I want to do.
However, I do not mind telling people to check out my books. They are all available on Amazon. In fact, the purely digital ones are only available on Amazon. Like all aspiring writers, I am hoping to do something like the author of The Martian already did. But I suppose I am just dreaming. After all, not many writers hit the big time and get the printed book deal and the movie deal after a digital release. And although it would keep readers engaged, I do not really want to ask them what they think ought to happen as I am writing the story.
Still, I do have the books out there. Middle grade fiction, screen plays, and of course, collections of my Musings. For a few measly dollars each. Or if you have Amazon prime, the digital books are free. Just download and read through the pages. (The more pages you read, the better. Especially, if you like the stories. Critiques are welcome too.)
So what does promoting my writing have to do with funding me? Or rather, my sons? I told my wife and kids that they ought to be the ones promoting me. After all, they could have their friends buy my books and that could be our source of funds for college. (Did I mention that Amazon Prime members can get my books for free?) It would be better than begging. Rather, crowdsourcing.
Well almost.
I suppose that if you have read my writing much, you might think that asking people to buy my books is a lot like begging. And I know that asking people to give up a latte or two might is asking more than I can imagine. Still, I figured it would not be too much to ask my wife and kids to do a little promotion for me. But I guess it is. After all, they gave more thought to the GoFundMe idea than how to promote me. Ah well.
(By the way. Did I mention that you can get my books on Amazon?)
© 2016 Michael T. Miyoshi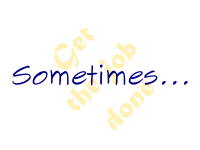 Sometimes, regardless of best intentions, you do not get the job done. Or is that just me?
I was posting my blog the other day and ended up not getting any writing done. Or at least nothing new. Except these few sentences. And a twitter post of a six-word story.
Talk about disappointing. However, the great thing about writing is that you can just pick up where you left off. (I am writing this on a different day.) Or at least most of the time I can. Then again, I find that I have almost as many unfinished ideas as I have finished ones. Not quite, but it sure seems like it. I have pages and pages of just a few words or ideas. Some of them are a bit longer, but certainly incomplete.
But not getting the job done does not just happen with writing. Sometimes I get so caught up in the day-to-day stuff, that I forget to do the things I am supposed to do. Sometimes I get caught up in catching up on my emails or helping people with their technical problems or doing digital paperwork that I forget my most important job of teaching. I sometimes run out of time to wander around and help folks out.
(Now, if you have been in my classroom anytime in the last twenty years, you have probably heard some Miyoshi-ism. Some phrase that I say over and over and over and over. For instance, I excuse my classes with the encouraging words, "Have a great day." I also try to get them to work and get their own tasks done with other encouraging words like, "Getting any work done over there?" I use the same phrases so much that a couple students created an app that gives people my voice and some of the most popular phrases. But if you have been reading my blog very long, you already know about that. Suffice it to say, that I am somewhat predictable in what I say and do.)
One of the most important things that I do in my classes is to "wander around and help folks out." I do not say it in the drawl that some of my students like to mock me with, but I do say it after I address the students at the beginning of each class. Or almost each class. But that wandering around helping folks out is where I do my best work. It is where the teaching and learning take place. People do not pay enough attention to lectures to get much out of them (not that they are long or many in my class), but students do get plenty out of individual and small group interactions. Sessions do not even need to be about the topic at hand for students or others to learn something. I know that I learn something about students and even about the subjects I teach from these interactions. From just wandering around.
But I must admit. Sometimes, the other stuff gets in the way of teaching and writing. Sometimes, I just do not get the job done. Sometimes, I do not wander around to help folks out. Sometimes (maybe often), I do not get out a quality piece of writing.
I guess that is just life. Sometimes, we get distracted from the most important things. Sometimes, regardless of our best intentions, we do not get the job done. Or maybe that is just me.
© 2016 Michael T. Miyoshi