Be Proud · 24 January 2015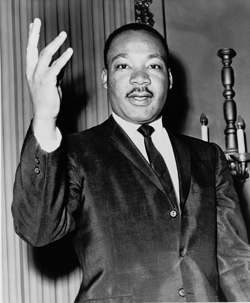 "Martin Luther King Jr NYWTS"
by Dick DeMarsico, World Telegram staff photographer – Library of Congress. New York World-Telegram & Sun Collection. Licensed under Public Domain via Wikimedia Commons. This work is in the public domain.
The students of Cedarcrest High School should be proud of themselves on this Martin Luther King, Jr. (MLK) Day. Indeed, their parents and certainly their teachers have every reason to be proud of their behavior at the MLK assembly.
The Martin Luther King, Jr. assembly at Cedarcrest High School was a celebration of Doctor King's life, but more, it was a celebration of diversity. The diversity of our country and of our own student body.
There were many diverse students involved in the assembly and that in and of itself was impressive, but the way the students who were not "on stage" became engaged and involved was the wonder to behold. I daresay that many adults could take a lesson from all the young people in the gym that day.
Even though the population of Cedarcrest High School may not be too terribly diverse, there were students from every segment of our student body represented in the assembly. Students from the newly created Diversity Club led the assembly and performed a dance routine at the end. Students from the Gay Straight Alliance read a poem. Students from all the Japanese language classes performed a traditional Japanese song. A couple of students performed two Native American songs. A student sang a song in Russian and English. Another student performed a Hula Hoop dance routine. There was a video of Cedarcrest students talking about Martin Luther King, Jr. and diversity and equality and respect. It was an amazing array of students showing all those present that respect was alive and well and living in the Snoqualmie Valley.
One of our newest teachers was asked to speak at the assembly. He started off with a quip about how it was almost cliché that they would ask the new black teacher to speak at the Martin Luther King, Jr. assembly. He commented about how he was amazed that people in the Northwest treated each other with respect and dignity that he did not always see growing up in the south. A south where the main site-seeing attraction in his hometown was the slave auction block. His speech was a fitting end to a great MLK assembly.
As wonderful as all the kids and adults participating in the assembly were throughout its entirety, the beginning of the assembly really set the tone for it all.
After the initial introduction, the choir sang the national anthem. They did a great job and people stood with their hats removed and most placed their hands to their hearts as is expected. The choir sang a cappella and there were more than a few voiced cymbals from the crowd (at the appropriate times) as they sang. It was a pretty normal beginning. Nobody could have imagined that what was coming would be so special.
Before I go much further, I must admit that I am a bit biased. I suppose I have the right to be since I have taught at Cedarcrest High School for almost twenty years now. I love the students and staff, but I must say that I do not remember a time when I have been more proud of them than in the moments after the Star Spangled Banner to the end of the Martin Luther King, Jr. assembly.
The first speakers up were a small group of students with special needs and some peer tutors that helped them in various ways – mostly being physical or emotional support. Travis read an original poem composed by their teacher called I am Me. And Proud. All the students in the small group around him under the spotlight said the words, "I am me. And proud," or at least held up signs with those same words after each stanza. By the end of the poem, almost all of the students in the gym were repeating, "I am me. And proud."
After Travis was another student, Nikole, who was to read another original poem, I Stand Strong, also composed by their teacher. But she could not get the words to come. She even started crying at one point. Her teacher came out and kneeled on the ground a few feet in front of her to give her encouragement and support until she was ready to read in her native tongue, Russian. When she finally spoke and her classmate interpreted for her, it was a beautiful moment. It was inspirational. It was amazing. But even more amazing was how the students in the audience treated her in the moments before she spoke.
Everybody was silent after the I am Me. And Proud. poem. Nobody in the audience knew what was next, but they saw the small group of students continue to stand in the spotlight and waited expectantly. Time marched silently along as everybody waited. There were not even hushed conversations or rustling of clothes as people watched and waited silently. It was a few moments before it became obvious that the speaker was not able to say anything. She may have been scared being in front of everybody or she may have been distraught about the words she could not get out. Regardless, the whole gym remained silent. The only thing that anybody heard was her hushed cries.
While the silence was amazing and showed immense respect, it was also full of encouragement. It was as if all the students and faculty were silently pulling for her. Surely prayers and thoughts of support filled the gym that afternoon. The relief and feelings of love were palpable when she finally spoke after who knows how long. I did not recognize the language, but it and the interpretation were beautiful. At least as beautiful as the silent support her audience gave her.
The same respect was accorded to all the speakers and performers.
One of the staff members commented after the assembly that even though he could not speak for the reverend doctor, he was sure Martin Luther King, Jr. would have been proud of our student body. A thread of emails were sent from staff members to commend the organizers, the participants, and the audience for their part in the best MLK assembly in remembrance.
The nightly news often shows us all the worst in people. The media focuses on how far we still have to go in granting civil rights to all. But on one afternoon in one Martin Luther King, Jr. assembly at one high school in one little town in the state of Washington, students got it right. They showed us that people can be loving and accepting of others. Certainly, they do it most of the time, but they saved their best for a special day of remembrance and celebration of a special man and his righteous cause.
I know I am biased, but I am proud of the Cedarcrest High School students and staff. They should be proud of themselves too. For they understand and live out the dream of which Martin Luther King, Jr. spoke. And they showed it on one very special afternoon celebrating his life and our diversity.
© 2015 Michael T. Miyoshi
It was not me. As much as I would like to take credit for the shameless self-promotion in our staff room before the Christmas break, it really was not my doing. My words came back to haunt me.
Two of my friends, M & M (the ones who claim to be my only two real readers), decided to make my words come back to haunt me. I knew they were going to do it. After all, one of them told me it was going to happen. I just did not know when. Or how.
I thought something was up the last week of school before our Christmas break. Something Marc (not the one who wants to be the green M) said, led me to believe it was imminent. That the other shoe was about to drop. Each day I would wonder what they were planning. And each day, I was disappointed. I just wanted to get it over with. Then, when I was finally convinced that I was wrong about that week being the week, it happened.
When I walked into the staff room, I was greeted by a set of messy tables. There were papers strewn all about. It was unusual to say the least. Then, I looked a little closer. All the pages were Musings of MediocreMan. They were all my blog posts since the beginning of the school year. Printed out and placed on the table for all to see. Another colleague who was in the room was kind enough to humor me and take a set that he said he wanted to read. Needless to say, I was a bit embarrassed. And humbled. And actually, thankful for friends.
As is my routine, I walked up to the front office to say hello and check my box for mail. Our staff mail boxes are not enclosed so I could see that everybody had at least a page of MediocreMan. I laughed to myself some more. And was embarrassed some more too.
During lunch, everybody laughed at the prank. A few of them were kind enough to read some of the pieces. And then Mike (the green M) came in. He was supposed to have known about and participated in the whole prank, but apparently their lines of communication were not completely in sync. Still, he picked up on the theme and added his own touch.
"Is five minutes during the assembly going to be enough time for your shameless self-promotion?" he asked as he grinned his silly grin. Then, he grabbed a Musing and pretended to scan it. "Maybe you need fifteen minutes instead." He giggled some more.
Somewhere during lunch another of my colleagues innocently asked if I was the one who printed out all those pieces and left them for everybody to read. Needless to say, her innocent remark (looking back, maybe it was not so innocently) just helped to humble me more. And added fuel to the fire already started by my friends.
Of course, M and M just laughed at me and pointed out that it had to have been me shamelessly promoting myself. After all, they reasoned (facetiously, I might add), I do it all the time.
If I was a prankster, I would surely come up with something to get back at my friends. But alas, all I can do is laud them with praise and thank them for being my friends. After all, escalation would certainly not be in my favor.
I got one new "like" on Facebook the day of their prank. It might have been coincidence. Or maybe it was to show: Sometimes, we all need to do a little shameless self-promotion.
© 2015 Michael T. Miyoshi
I am not a betting man, but if I was, I would bet on the Seattle Seahawks winning a third Super Bowl in a row.
I know people will say that I made a typo or that I am jinxing the Seahawks who have not even won their second championship. Yet. But I am just thinking of the odds a person might get on a simple bet like that.
From what I understand about sports books, they take bets (where it is legal, of course) on just about any sporting event. Even those that may never happen. So right after the Seahawks won Super Bowl XLVIII would have been a great time to place a bet on them winning XLIX. People might even have gotten some pretty good odds in the middle of the season when the pundits were wondering if they would even make the playoffs. Now, a bet on the Seahawks as the next Super Bowl champs would probably only get even money. But a bet on Seattle winning Super Bowl 50 might get some decent odds.
History is, of course, against Seattle winning even its second Super Bowl. Only a handful of teams have done that. And nobody has won three in a row yet. So making a bet on Seattle winning Super Bowl 50 as a third in a row would be a great bet to make. After all, the definition of a good bet is little risk and a lot of potential reward.
I can imagine sports books covering bets like that calling it easy money. Nobody has won three in a row yet so the odds ought to be pretty good for the person making the bet. And the Seahawks need to win four more games this season so that the bet even has a possibility to be won. For it not to be easy money for whoever is covering the bet.
Still, I imagine that odds makers might want to hedge their bets. If too many people make that silly bet, the odds go down. It is just the nature of the beast. The sports books need to be able to cover their losses. And then, each week that Seattle wins, the odds would go down more. They might even get down to even money when the Seahawks win their second Vince Lombardi trophy.
But I am getting ahead of myself. Or at least ahead of the team.
In truth, I am a Johnny come lately. I do not watch each game like my mom does. In fact, it has been a long time since I have actually enjoyed watching professional football. I know it is almost considered sacrilege to say such a thing in these United States, but I have not liked watching a bunch of professionals with poor attitudes playing a game I love. I just hated seeing them treat the fans as if they did not matter and the game as just a job.
Then, I started watching the Seattle Seahawks again these last couple years. I still do not watch every game, but every time I see them, I think, "They play the game right." They play with passion. They play with enthusiasm. They actually play the game like they are having fun. I can imagine them in the park playing a pickup game and having the same fun they have each week during the season. Football like that is fun to watch.
The other reason I like to watch the Seahawks now is not because they are world champions. I like the Seahawks because they believe in the process and they believe in themselves. From the outside looking in, they appear to be following the path to success that I teach my students and athletes. They understand that discipline and hard work come before success. They trust their coaches and the system they have in place. They get that they are each an integral part of the whole. And they understand that the whole is so much greater than the sum of its parts. The players have bought in to the culture of success that is the Seattle Seahawks. All of those things are worthy to be emulated on the football field, in a company, or in a classroom. Believe it or not, that system of discipline and hard work are the reason I like watching the Seahawks. For that system translates into enthusiasm. It translates into success. It translates into great football that is fun to watch.
It has been a long time since I have watched a lot of football games let alone bet on any. But it might be fun to place a small bet on the Seahawks. (Never bet the farm.) But with the way Seattle is playing, sports books might not be so keen on taking too many bets on the Seahawks winning a third Super Bowl in a row. Even before they win their second.
© 2015 Michael T. Miyoshi
Published 31 December 2014 in Take 2 | The Seattle Times