I know there is no "F" in BINGO, but I felt like shouting, "BINGO!" when our number was called.
Our youngest son, Thing 3, and I were in the department of licensing to get his learner's permit the other day. Just getting the permit is enough to cause anybody anxiety and angst. After all, it means our baby is growing up. But that anxiety and angst were replaced by annoyance and boredom while waiting in line to get the important driver's permit.
(I actually looked online before we went and saw some negative comments about the particular place we went, but as far as I was concerned, it was unwarranted. The wait was long, but the people were nice and helpful.)
The first thing we did was a little preprocessing at the front door. Tell your name, show your I.D. (since Thing 3 already had an I.D., we did not need to show his birth certificate), get a ticket (ours was F27). Then, after the preprocessing, we took a seat and waited.
And waited. And waited.
While we were waiting, I noticed something different about the ticket number. The tickets were not like the self-serve take a ticket system of old. Like I said, they had a preprocessing process. That process must have categorized us into people who needed different services. Those different services got different numbers, like E335 or R12. I am not sure what the Es and Rs designated (there is no "E" or "R" in BINGO either, by the way), but it seemed that all the Fs were kids getting permits. Or people of any age getting permits. They were all accompanied by parents or some other person. Somebody who presumably drove them there.
There was an electronic reader board up toward the front of the room, which had seven or eight processing stations, a walled off area with computers for testing, and about a hundred seats for waiting. The place was not packed when we got there, but it was pretty full. The reader board showed that two or three people were at stations getting helped. E-something and R-something. No Fs at the counter. I finally saw an F number after about half an hour or so. F20. Woo hoo! Only seven more Fs to go. Who knew how many Es and Rs were between all those Fs, but we were making it toward the front of the line.
But we kept waiting.
After about an hour, we still had only gotten through a couple more Fs (which was how I figured out what the F designation meant). I looked around and there were quite a few of the kids and their parents still waiting. Other Fs. Then, a new set came and sat in front of us. The youngster had a smart phone and showed his father that it was an estimated hour and twenty minute wait. They had just gotten there, but the father just shrugged and smiled. Oh well.
I asked Thing 3, "What time did we get here?"
We had some back and forth conversation, but neither of us really knew. Then, I looked at the ticket. We had been there almost an hour. According to the kid in front of us, we only had about twenty minutes to go. Maybe even less. The clock still ticked.
I got a little excited. I even told Thing 3 that he ought to jump up and yell, "Bingo!" when our number got called. He smiled a bit, but said no. Then, I suggested that I would do it. He was not amused. But I was. I was getting excited. F22, F23, and F24 were called in quick succession (if over ten or fifteen minutes is quick). F21 must have been called too, but it was probably while I was having the harebrained idea.
We waited for whatever was left of those last twenty minutes. "Now serving F25." Would we make it to the approximate wait time? "F27!" They missed a number but I was excited. "Bingo!" I jumped up and shouted. I even did a little victory dance. Unfortunately, Thing 3 died of embarrassment and all the wait was for naught. It was quite the bummer.
Okay, the shout, jumping, and dying never actually happened. However, I did say "Bingo!" But just to Thing 3. He smiled. Just a little. As small a smile as he could. I am not sure if he was amused or just glad that we were done waiting. Or that I had not jumped up and yelled and that he did not need to die of embarrassment.
In some ways, I wish that I had been bold enough to yell "BINGO!" loud enough for more than just a few people to hear. It would have been great fun and lightened a few people's burdens. As it was, I was happy that I had made Thing 3 smile. A rare feat indeed. (He did not smile for his photo.)
In the end, I do not really know whether Thing 3 was amused at my planned antics (and relieved that I did not go through with them), or whether he was just wondering why I would shout and celebrate when there is no F in BINGO.
© 2016 Michael T. Miyoshi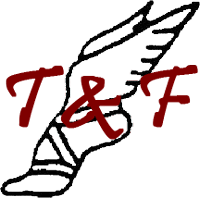 It does not happen often, but I met a living legend. At the Washington 2016 State Track and Field (T&F) meet.
I was sitting at the javelin area getting ready for the 2A competition. I had settled into my spot at the fence ready to watch my athlete compete against fifteen other athletes for the state title. Other coaches and spectators were sitting by me too. Just before the competition started, a seasoned coach, decked out in his school warm ups, came and sat by me. He used the chain link fence to help himself get seated. "Sitting down's not a problem, but I might not be able to get back up," he smiled. I chuckled and smiled back.
As the competition commenced, I wrote down the distances each of the girls threw. I wanted to know what it was going to take to make it through preliminaries to get to finals.
(In championship T&F field events (except for the vertical jumps), the athletes get three preliminary attempts. The athletes are split up into "flights." In our case, two flights of eight each, half in one flight, half in the other. The field is then narrowed by these preliminaries to see who goes to finals. In our high school state competition, the field is narrowed from sixteen to nine competitors. Those nine finalists then get three more attempts. The competitor with the best mark of the six attempts is the champion. Which is why I was keeping track of everybody's throws.)
It was apparent as the first flight progressed that my athlete, Judy, would need a very good throw this particular day. Maybe even a personal record (P.R.). Just to make the finals. My as yet unknown companion agreed with that unsaid assessment, and made comments about many throws. I heard, "That was a nice throw," many a time.
When the second flight started, both of our athletes came over to talk to us after each throw. Judy threw first and had a decent attempt. When she came by for her normal post throw conference, I told her to "throw through the point," a javelin term to emphasize where the energy must be directed. As she nodded and jogged away, my companion said knowingly, "How many times have you said that." I smiled and nodded back.
When his thrower came over, he acknowledged her good throw and joked that she got the first attempt measured for once. (Not only that, but she had already made finals according to my chart.) She smiled and jogged away. As the preliminaries finished, we knew that Judy did not make finals, but she had a great first experience competing at state.
I stayed seated to watch the finals, but did not keep as good of track of the throws on paper. It was fun to hear my companion tell his thrower, "It just takes one." He celebrated with her when she hit a milestone P.R. on her first throw in the finals. She jumped in the standings from sixth to second or third. She jogged away smiling as he told her once again, "It just takes one."
On her last throw of the competition, my companion's young charge got another P.R. One that put her atop the leaderboard. She was excited to share that moment with her coach. Then, they waited for the measurement of each throw after hers. The next to last thrower threw mere inches less than my companion's athlete. The final thrower was the leader going into finals and was projected to be the champion even before the meet began. Before her last throw, she was sitting third. Still, the truism that "It just takes one" was possible for her too. It seemed that my companion held his breath as the thrower threw her javelin. A good throw it was too. But when it was measured, I congratulated my companion. His thrower had won the competition by my calculations.
"I won't believe it 'til I see the official results," was what he said. He had trusted my chart all competition, but he knew as did I that it was not official. Still, his eyes held pride and wonder. A state champion.
I left the javelin area happy to have met a fellow coach. A coach who had helped an athlete become a champion. But of course, that is not the end of the story.
When I got back to our claimed area in the stands, our head coach told me that the gentleman I was sitting next to during the javelin competition was a legend. And it was not just his athlete he was proud of, it was his granddaughter. Which gave a whole new meaning to the look the coach had when his athlete won the championship.
Shortly after I was told that I had been sitting by a living legend, the living legend himself came and sat across the aisle from us. Coach Bruce Flanagan and his wife, Alyce, were watching others compete. I was so excited that I barged into their enjoyment of the competition and introduced myself. I actually talked to the living legend and his lovely bride.
I found out that Coach Flanagan and his wife have been involved with girl's track and field for fifty-some years. He and Alyce started Flanagan Clan Girls Track Club in 1963 in Woodland, Washington a year after they were married (before Title IX allowed girls to compete in track and field at the state meet or any high school meet). Even before they had children of their own, they coached young girls in their area and watched with pride as they grew up and went to their respective local high schools to compete during the Track and Field season. "When they got to be high school age, we told them that they were school athletes during the season and could come back after it was over. It was fun to see them go out and compete against each other," Coach Flanagan told me.
Alyce told me that they had been to the state T&F meet for over forty years. "We only missed two years."
Coach Flanagan completed the thought, "When one of our granddaughters was playing softball in the state tournament we went there to support her." (That granddaughter will be playing fast pitch for Seattle University starting next season.) It was a good thing that they attended this year's state T&F meet though, for it was a different granddaughter (the younger sister) who won a first place medal.
This year as in every year, the Flanagans watched the state competition as their female athletes from their club and athletes that Coach Flanagan coached at Woodland High School competed in the various events. They have seen many great competitors come through their club over the years. And their legend and legacy continue to grow.
Alyce was more apt to brag on Coach Flanagan's accomplishments than he was, and you could tell she was proud of him. Proud of the club they had formed together. Proud of their athletes' accomplishments in T&F. Proud of their children and grandchildren. I was glad that they allowed me to sit and chat with them for as long as I did. I hope they did not think me too much of an imposition as they watched and reveled in not just their granddaughter's accomplishments, but in the accomplishments of current athletes and those spanning over half a century.
When our conversation was over, I realized how fortunate and blessed I was to meet a man and wife who have done so much for women's track and field. So much that we now take for granted. And I was thrilled that I could meet and spend a little time with a living legend.
© 2016 Michael T. Miyoshi
Congratulations class of 2016! You made it. It is time to relax a little and enjoy your accomplishments. But do not rest on your laurels too long. They just get tired.
This year, as in 2010, I have a more special reason to congratulate the graduates. I have one myself. So besides all those graduates who have been in my classroom or on my field or just in my hallway, I have a graduate who has lived in my house and eaten my food. Thing 2 is graduating.
I am, of course, happy for the graduates. Happy and excited that they are moving on to the next stage of life. But I am also a bit anxious and sad. Anxious because I do not know whether I have prepared my students or my son well enough for the road ahead. Sad because I must say goodbye. Thankfully, some of them will come back and see me or at least stay in touch online. Hopefully, one of them will be our son.
I suppose that I should not be too anxious. I have given my best to my children and my students. And hopefully, I have shown them how to live as well. How to love and respect each other. How to work hard and enjoy life to the fullest. How to be confident in their quest to conquer the world. I know I have missed the mark at times. Probably more often than not. But I have given them all the important lessons that I know. Still, I thought maybe I would remind them one more time.
We talk about it often at home, but I actually just get to allude to the most important lesson of all when I am at school. I tell my students that Jesus is my Lord and they do not get to take His name in vain around me, but I do not get to tell them that they ought to make that choice and live that life as well. I do not get to tell them that living a life dedicated to the Lord of the universe is worth everything, but I try to live a life that shows it.
I probably do a better job of living a life of respect at school than I do at home. (Maybe I ought to play Aretha Franklin's Respect song at home more often.) It is not that I do not respect my own children, I just say do stuff and say stuff that is not construed that way. I do not listen as well as I should. I insist that I must have the last word. Or something like that. I have been working to do a better job of treating my children with the utmost respect as if they were adults, but it is difficult. I still see them as my babies. I still see them as if they need my guidance and protection, rather than a listening ear and a closed mouth. I do respect Thing 2. I guess I am just not ready for him to grow up all the way. And that translates into words and deeds seen as disrespect.
I am not sure that my students really see the other important lesson I want them to have. At least not like my own kids see. My students just see me walking around helping folks out or giving encouragement to my students and athletes. They see me following my passion and not working a day in my life. On the other hand, my family sees me at work all the time. They see me as a tired dad who has already given his best at work and does not have much left for his family. I do work hard, but I hope I give my best at home too. I hope that I have not really just given my family the leftovers, even though at times it seems that way.
I know that my job as a teacher and father is to make myself obsolete to those in my care. I know that they are supposed to go out and leave the nest. I just hope I have prepared them well enough. I hope that the lessons of choosing Jesus, loving and respecting others, and working hard at a job you love have sunk in. I hope that I have been a good enough example of those lessons that they remember. I hope I have the strength to let them go. Especially, my own graduate.
I do not know when you find out whether you did your job well as a parent or an educator, but waiting for the results is never a fun time. Still, we parents and educators can pat ourselves on the back a little for we have helped the kids get this far. And we can give them a hug as we wish them well on the next step in their journey.
Congratulations class of 2016. Congratulations, Thing 2. You made it.
© 2016 Michael T. Miyoshi