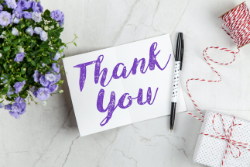 No matter where I find myself in life, I am still thankful.
Thanksgiving is an interesting holiday. It is thought by some to be a celebration of colonialism. It is thought of by others as a meal with food that nobody eats any other day. And it is thought of by still others as a day to give thanks to the One who gives us all our blessings in the first place.
I know that we are not all in the same place, physically, emotionally, spiritually, or in any other sense-ally. But regardless of where we are in any of those ways, there is probably something that we can be thankful for.
I am thankful for many things. My health. My family. My job. My computer. Just to name a few.
I am thankful for these things, in part, because when I look at the world, there are plenty of people who do not have these things. It is not like the notion of comparing my lot in life with the lot of another. You know. The notion that I was sad about the state of my shoes when I saw a man with no feet. No. It is not about comparing what I have to what somebody else does not have. That is not really what thankfulness is about. I am thankful regardless of the state of my life because I know that life is fleeting. It is finite. And so I must cherish every moment.
I know. That sounds so Pollyanna-ish. It is too proverbial. It is too naïve. Especially when you look at the state of the world around us. War. Poverty. Famine. Hatred. Yes, I know. The world is in a sad state of affairs. Which is also why I am thankful. Why I am hopeful. Because I know that there is always something to look forward to. Always something to be thankful for. In the midst of whatever I am going through, I can always find the silver lining.
We all have our own struggles. Our own fears. Our own problems. But we can find hope and solace in others. And we can know that there is One who can bear it all for us. Which is why I am thankful and hopeful. I know my Redeemer lives. And I so am thankful.
I hope that no matter what you are going through today, you have something to be thankful and hopeful for. That you can have hope in the midst of whatever is happening in your life or in the world. That you can be thankful for life.
Wherever you find yourself this Thanksgiving and indeed every day, I hope that you can be thankful for something. Or somebody.
Happy Thanksgiving.
© 2023 Michael T. Miyoshi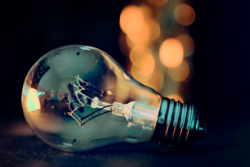 I have no idea. Which is different than having no ideas.
I had no ideas when I sat down this morning to write my blog post. I thought that I should get something done though. After all, blog posts do not just write themselves. So I figured I would just write something down. "I have no idea." That was it. Not a brilliant flash or anything. I just did not have any idea of what to write about. After all, I have written about many things, but I was just not really ready to write a blog post. I have been too busy reading and editing my latest book.
So I wrote the title of this blog post. And then I thought, "I wonder if I have already used that title." So I searched in my document. No blog post by that title. Yet. But I found out that apparently, I use the phrase all the time. Okay. Not all the time. But enough times for me to keep hitting the "Find Next" button a bunch. Ten or fifteen times. Maybe. So maybe not tons. Again. Certainly not all the time. But enough to take notice.
At any rate.
I find it interesting the phrases that writers use. Phrases that show up again and again and again in a writer's repertoire. Phrases that show up enough to know that you are reading that writer's writing. You might call it part of the writer's style. Or maybe that is just me.
I wonder about style. I know that I do not have any. Or rather, that mine is a style all my own, which could be considered no style at all. After all, while it may be distinctive, it is certainly not compelling. You can see tell by the quantity of my readership that it is not that compelling. Not that I am complaining. I love to write for the few faithful readers that I have. Both the real and imaginary readers.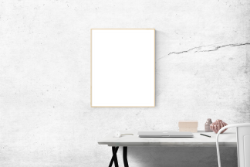 There is another thing about style. I know that I am not the only one who does it, but I like to break the writing rules. Not all the time. But enough that I have those green squiggly lines all over almost every blog post. Those squiggly lines are supposed to help you with your grammar. They are supposed to tell you to go back and read what you wrote. And fix it. Of course, I usually ignore most of those suggestions. Especially the ones that tell me I have an incomplete sentence.
At any rate.
I guess I ought to be happy. I wrote down a title for a blog post and came up with a few hundred words. Not quite five hundred words about having no idea. I will take that. Even though I still have no idea.
© 2023 Michael T. Miyoshi
Veterans Day is a day to thank our veterans and active duty military service members. And it is a day to think about freedom.
Freedom is not free. It never has been. And it does not matter whether the freedom is personal or national or global. It is always won with blood, sweat, and tears. Always.
It is interesting to think of how we far we have come. We thank our veterans and active duty military personnel because we know the price they and their families have paid for freedom. Rather, we empathize and sympathize with them, for most of us have never walked in their shoes.
In fact, it seems that few of us have had to pay any price for freedom so we often take it for granted. And I wonder if sometimes we take for granted the rights that the Constitution of the United States guarantees. Yes, there have been times in our history when those rights were violated by the very government that guarantees them, but the ideals are there. We just need to do our best to uphold them.
Which is why we thank our veterans. They have been there to guarantee those rights. They have stood against the tyrants and others who would take those rights from us. And from others. Which is why we thank them. Why we have dedicated a day to them.
I know that Veterans Day started out as Armistice Day. The day that the Great War was ended. Of course, we all know that the war to end all wars was not the end of all wars. In fact, it seems that the world is always at war. We are always fighting for something. We hope that the something is freedom. But we do not always know for sure.
Which is an interesting thought.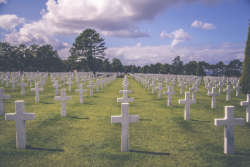 Freedom is not free in a different way than we often think. We impose restrictions of one sort that we might have freedom of another sort. In other words, we are not ever completely free to do whatever we want. We are not free to take what we want whenever we want. We are not free to harm others. We are not ever completely free from all constraints. Which, oddly enough, is a good thing for everybody.
But what does that have to do with Veterans Day? Everything.
The Constitution is not a universal document, but the rights of life, liberty, and the pursuit of happiness seem to be. Whether they are recognized as such by any government. And while I will not debate the policies of any country policing the world, I would say that we should stand up for the rights of all people.
Which brings me back to the beginning. Freedom is not free. It never has been. And so I stand up to say thank you to our veterans and active duty members of our armed forces. I stand up to say thank you to their families. For yours has been the blood, sweat, and tears shed for freedom. I thank you on this Veterans Day 2023. And I thank you every day.
© 2023 Michael T. Miyoshi