Deception Pass State Park is a beautiful place to camp or just enjoy for a day, but beware! IT IS LOUD!
We had not been camping for years when we decided to go for a few days this summer. My wife made reservations in March and there were only a few spots left to reserve around our anniversary. So she picked a spot. She read a note on the official Deception Pass State Park website that said there could be noisy conditions due to the military aircraft flying by. Little did we know.
One of the things I like about camping is the quiet and solitude. After all, being out in nature is all about being out in nature. Listening to the birds and squirrels and whatever other wildlife is around. Even seeing people at campsites near you is pleasant. Unfortunately, being able to sit quietly and just enjoy the sights and sounds of the great outdoors is not quite what we got at Deception Pass.
Deception Pass is just north of N.A.S. Whidbey Island. N.A.S. stands for Naval Air Station. Which stands for lots of airplanes flying around the island. Which means they fly around the campground too. And unfortunately, the state park often happens to be in the flight path of airplanes whose pilots are practicing to land on aircraft carriers. That means lots of slow flying planes going around in circles touching down for a moment and then taking off again with full power. Which means LOUD!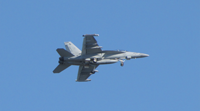 I must admit that I was amazed to see the planes when we first got there. I just love to see F/A-18 Hornets flying around. And whether the military jet flying is the same plane as in Top Gun or not (those were mainly F-14s), I hear the song Danger Zone in my head. There were also some prop planes used for refueling which were not so loud. All of which meant that I got so see an airshow (complete with music in my head) for the days we were camping. No matter where we went at the park, we saw planes. All day and all night. Now, I like airshows, but not all day and all night, all day and all night, all day (we left before the third all night).
However, I did not have trouble sleeping. I just put in earplugs and fell right to sleep. And the mornings were peaceful and quiet. There were also stretches each day when it was quiet. But the times when it was loud, it was so loud that we could not just sit and visit. We had to wear earplugs then too. Or at least we should have.
Still, all in all, it was a nice camping trip. We had s'mores and some more s'mores and got to enjoy the fire and each other's company. What camping is all about. I would visit Deception Pass State Park again, but not to camp. For while it is beautiful and scenic and clean, it is just too LOUD for us.
© 2017 Michael T. Miyoshi
1:57:22 · 15 July 2017

Photo courtesy Ian Fay
The amazing relay team did it! They actually ran a sub-two-hour marathon. (Press here for previous story.) Oh sure, each person only ran about an eighth of that distance, but they did what even the 2016 Olympic champion Eliud Kipchoge could not do. Even with his team of pacers in nearly ideal conditions, he missed the mark by 25 seconds. Maybe next time he attempts the feat, he should race against the Cedarcrest boys who ran as a team to finish a marathon distance in 1 hour 57 minutes and 22 seconds.
Now to be fair, Kipchoge is a world class runner who runs marathons on his own at 2 hours and something (usually minutes) and the Cedarcrest athletes were a team of eight. But the team of mere mortals from Cedarcrest does have something to brag about.
1:57:22. Yeah, that's right.
As in all racing, the clock is one of the most important things to beat. The tick tocking of the clock as the laps roll by is a constant reminder of the pace that must be kept in a race to beat any mark. Even more so in the marathon. Each mile gives some indication of whether the runner (or runners in this case) is on pace or not. And that is as tough on the mind as it is on the body. Maybe even tougher. For at one time or another, all have succumbed to the negative nagging thought, "You cannot do it." Imagine that thought going through your head for just under two hours.
Then, imagine the glory of telling that negativity, "Hah! I showed you." That is what I imagine the Cedarcrest boys did when they beat the 2-hour mark for 26.2 miles.
1:57:22. Of mental and physical testing.
I wish I had been there. It would have been quite the treat so see eight boys run 105.4 laps around the track in less than two hours. Especially knowing that to get there, they each had to run their 13 laps (somebody had to run 14 laps and somebody 13.4 laps) in 68 seconds. Oh sure, they would get a little more than 7 minutes to rest between each time they were up for their next lap, but that is precious little time considering they were all going near their maximum speed for the distance. It would have been amazing to see the glory of the team as they rooted on the last runner giving his all on the last part of the last lap.
1:57:22. Of blood, sweat, and tears. (No blood, but that is the saying.)
Dean, one of the boys' cross country coaches, said that being there to witness the event was "very emotional." To put yourself and your team out there in a place where the likelihood of success was marginal. To just decide that you are going to attempt it in the first place and then make it into a fund-raising event (so far they have raised a couple thousand dollars for Treehouse. Contact Bruce McDowell at McDowellB@rsd407.org to donate.). And then, of course, there is the realization that these are your boys. There is that proud papa feeling. Yes, I can see why he was very emotional.
1:57:22. Of emotions.
I am sure that there are other teams of elite and even high school runners who could match the feat of our Cedarcrest octet, but Ben Benson, Chase Bolin, Ian Fay, Emmet Klaiber, Ryan LaTurner, Patrick McCabe, Daniel Murphy, and Grant Van Valkenburg can relish the fact that they did it as a team. They beat the two-hour marathon. They ran 26.2 miles in 1 hour 57 minutes and 22 seconds. They did it!
26.2 miles in 1:57:22.
© 2017 Michael T. Miyoshi

Stopwatch
This work is in the public domain.
What can you do in less than two hours? Maybe see a movie. Or run some errands. Surely a trip to the mall could be done that quickly. But how about running 26.2 miles?
Several runners tried to run 26.2 miles in under two hours on May 6, 2017. The three who started out were paced by other runners in the attempt. In the end, Eliud Kipchoge of Kenya (2016 Olympic Marathon champion) ran the distance in two hours and twenty-five seconds. Just missing the two hour mark.
At least a few runners from Cedarcrest High School in Duvall, Washington watched the attempt. Afterward, these runners from the small towns of Duvall and Carnation did some calculations. The 26.2 miles of a marathon equals 42.16 km. Each lap on a track is 400 meters or 0.4 km so a marathon would be 105.4 laps on the track. There are 7200 seconds in 2 hours. That meant that breaking a 2 hour marathon would be hitting just over 68 second laps for each of those 105.4 laps. It meant crazy fast.
Well, these boys were in the middle of the track and field (T&F) season, which for distance runners meant they were running 400 repeats as part of their training. These repeats are a grueling training regimen, where their coach, Bruce McDowell, tells each runner how fast he or she is supposed to run a single lap of 400 meters. The runners also get a specific number of repeats they are supposed to run and a specific amount of time they get to rest between said laps. Since the attempt by Kipchoge was during the high school T&F season, the boys knew what the 68.31 second 400 meters meant. It meant running fast for a long time.
The marathon attempt and the thoughts of 400 repeats got the boys to thinking. The elite marathon runners and their pacers did not break the 2 hour mark, but could a bunch of people running 400 meter repeats break the two-hour barrier as a team?
The question turned into an idea and the idea turned into a plan and the plan turned into an event.
The event is a relay run to break the two-hour marathon on Friday, July 7, 2017 at 7:00 pm at the Cedarcrest High School stadium (29000 NE 150th Street, Duvall, WA). In the attempt, eight current or former Cedarcrest runners, will run a lap, then rest for seven, then do it again and again until they run a marathon as a team. And they are doing it for charity. People are giving pledges per lap or donating money to the event. The proceeds will benefit Treehouse, a foster care non-profit. (Contact Bruce McDowell at McDowellB@rsd407.org to donate or for more information.)
The intrepid runners are Daniel Murphy, Ian Fay, Grant Van Valkenburg, Ben Benson, Emmet Klaiber, Ryan LaTurner, Patrick McCabe, and Chase Bolin, who would love any and all support. So join them at the Cedarcrest stadium in Duvall as they run. Or at least donate to their cause.
The event will not be quite like a quick trip to run errands, but it might be as entertaining as some movies. And who knows, maybe, just maybe they will finish in less than two hours.
[They did it! The relay team ran a marathon on the track in 1:57:22.]
© 2017 Michael T. Miyoshi