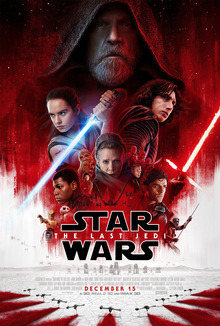 Star Wars: The Last Jedi
The poster art copyright is believed to belong to the distributor of the film, Walt Disney Studios Motion Pictures, the publisher, Lucasfilm, or the graphic artist.

As of the moment of this writing, I have not seen it yet. But by the time I post it, I will have. Hopefully. Until then, I will just go around with my fingers in my ears saying, "La, la, la. I can't hear you."
There are always must see movies that I have not seen yet. This year, it just happens to be another Star Wars movie. The Last Jedi. The interesting thing about movies you have not seen yet is that there are rules.
One of the guys at work saw the movie on opening night and said that it was certainly worth seeing. He did not give any plot points or any spoilers. He just said it was worth it. During the time he was not saying anything about the movie, another person was plugging her ears and saying, "La, la, la. I can't hear you." (I made that up this time, but it has happened before.) Then, another person explained the unwritten rule about elapsed time until you can talk about a blockbuster movie (after the La-la-la-er stopped la-la-la-ing). Apparently, it is two weeks. Or something like that.
Since the people I work with are teachers, that meant that The Last Jedi must be seen before our Christmas break ends. Or at least we need to see it before then if we do not want to hear about the movie. Plot points and spoilers are okay after said time period. I am sure those time periods vary depending on who a person spends time with, but that is apparently our expiration date. Or whatever you want to call that period of silence about the latest and greatest movie.
Working at a school, it is probably a good thing the movie came out right before the break. If it had happened a week earlier, all the students would have been talking about it and it would not have made any difference what the movie code of silence period was in the staff room. We would have all heard about the whole movie from a thousand different kids. Most likely. There are always the kids (and adults) who ask if you have seen the movie before saying anything. They are the ones who say, "Oh, you've got to see it. I won't say anything else about it though. You just need to see it." And then, they either say those same phrases over and over again, or they proceed to tell the whole story from beginning to end. Usually to a friend when you are still within hearing distance. Of course, there are also those who do the whole pantomime thing where they lock their lips and literally say nothing. They might even throw away the key.
I am not so worried about the code of silence period or people telling me the story. I will enjoy the movie when I see it regardless of whether I know the ending or not. Regardless of whether I know anything about the movie or not. Regardless of whether I see the movie in the theater or not. I do not even need to put my fingers in my ears and say, "La, la, la. I can't hear you," when people talk about movie around me. If I am going to see it, I will enjoy it.
Still, as of this moment, I have not seen the movie. So do not tell me about it. I would hate to run away with my fingers in my ears.
"La, la, la. I can't hear you."
© 2017 Michael T. Miyoshi

Adoration of the Shepherds
by the Dutch painter Gerard van Honthorst, 1622
This work is in the public domain.
I cannot believe Christmas is already here. Where has the time gone? And where have the traditions gone?
And the angel said, "Fear not, for behold, I bring you good news of great joy that will be for all the people. For unto you is born this day in the city of David a Savior, who is Christ the Lord. And this will be a sign for you: you will find a baby wrapped in swaddling clothing and lying in a manger." (Luke 2:10-12 ESV) Yes. I still hear Linus saying those words. Not every time, but often. Even if I have not watched A Charlie Brown Christmas for several years. I know. It is a time honored tradition. But somehow, we get caught up in all the hustle and bustle of the season and forget some of those traditions. Or the children get too old for those traditions. Or we just stop traditions.
I was recently interviewed for our monthly school video production. The interviewer asked what some of my favorite Christmas traditions were. I said a few things, but what made the show was that my favorite tradition was reading the Christmas story from our children's Bible. This little Bible just has the Christmas story. It has some songs too and we used to read the story on Christmas Eve to the boys when they were young. I remember one Christmas when my parents were at the house. All seven of us were crowded into one of the boy's bedroom and we all listened to the sacred story of Jesus being born in a stable. I remember reading from that same children's Bible as the boys got older too. Sometimes on Christmas Eve, sometimes on Christmas day. It was always a way for me to remind us all the reason for the season.
Of course, I did not have that much air time on the interview. I just got in the part about reading the original Christmas story from our Children's Bible as one of my favorite traditions. Which was good enough. I do not know if anybody heard it, but I am glad I said it. After all, there are Christmas traditions worth repeating year after year. And reading the original Christmas story and hearing Linus tell it are two worth keeping.
I think this year, I might need to bring back A Charlie Brown Christmas into our traditions. And regardless of how old the boys get, I am going to keep reading the Christmas story from that old Children's Bible.
And to quote another Christmas favorite: Merry Christmas to all and to all a good night.
© 2017 Michael T. Miyoshi
My fantasy football fantasy went down the drain with no fanfare at all. It was quite the fiasco.
If you have been reading my blog for very long, you know that I won our fantasy football championship a couple years ago. It was great. Bragging rights and a trophy sitting in my room at school for a whole year. Plus, my name written on said trophy for all eternity. And, of course, a blog post or two thrown in for good measure. Fun stuff.
This year, I was hoping to do it again. In fact, I thought I was on track to do so. I had won the regular season on the last game due to a loss by the team that had been in first place all year. Our records were the same, but I had beaten him in our head to head game. So I won the regular season trophy. Not only that, I was pleasantly surprised to see that I had won the scoring trophy as well. I never saw that coming. I knew I had scored well most of the season, but did not think I was the high scorer of our league.
So there I was with two of the three trophies in our league. Sure, they are only digital, but it was nice to be going into the playoffs knowing I had won the regular season. I had high hopes for the playoffs too. I had fiddled with my roster and had a decent lineup for that first game. The number one against the number eight. I was thinking I could win the championship and get the trifecta of fantasy football. But alas, it was not to be.
I needed my last player to give me eight points on Monday night. Not unthinkable since he had been on a roll. But he managed less than was necessary. I lost in the first round. The trifecta hope was gone. My fantasy football fantasy was went poof.

On the bright side, I still have the two trophies (yes, I know they are just digital). And even though I will not have bragging rights for the year, there is always next season. And I could still come out with a third place trophy. Not what I was hoping for, but that is okay. I had fun so far, and I will set my lineups like I was going for the championship. In fact, that is one of the lessons I learned this year. Remember what got you there and stick to the winning formula.
To be sure, there is not really a winning formula in fantasy football. At least not in our league. We have too many teams to get consistent output all season long. One week somebody will score over a hundred points with his lineup and the next sixty with the same lineup. Not that I am complaining. I just need to remember that you gotta play the players who will give you the best chance of winning the statistical game. Not just the players who are streaking. Which is what I did. I benched a player who had been on a slow streak for a couple weeks. Playing that receiver would have put me on top without the need for Monday night heroics. Ah well, I should have remembered that you are supposed to go home from the dance with the person who brought you. Streaks do not last. But consistent play from does. Anomalies abound in fantasy football. You just gotta stick with the players who are consistent. Or at least mostly consistent.
I was happy winning the regular season trophies this year. In fact, I was surprised how disappointed I was when I knew I could not compete for the championship trophy. I would not get to see Epitome (the name of our trophy) sitting on my desk this year. But that is okay. There is always next year. My fantasy football fantasy for 2017 is over, but my fantasy football fantasy for 2018 (just the trophy, not the trifecta) has already begun.
© 2017 Michael T. Miyoshi