Photo courtesy of Margie Miyoshi
There are fish stories and then there are fish stories. Inevitably, the best ones are about the one that got away.
I like a good fish story as much as the next person. But this one is not quite like the rest. It is about the one that got away, but not quite in the way you might think. For it is not about fish at all. (Despite the pictures.)
Writing is one of those crazy endeavors. You need to be crazy to do it. Either that or you have so many words in you that you need to get them out. Speaking is not good enough. You just need to sit down and write until they come out, or you will explode. Or maybe you just have so many ideas that if you do not get them down on paper, they will be released into the ether, and somebody else will get them and use them. Or some other cockamamie thought about why writers do what they do.
Personally, I am probably just crazy. To write and write. And writing with no apparent audience (sorry faithful readers), seems crazy to those who look on. They simply wag their heads and wonder. Or they misdirect their pity at the crazy man at the keyboard.
But as crazy as it is to sit here and write day after day after day, it would be crazier not to. After all, I have said for decades that I want to be a writer, and for much of that time I was a liar. I said it, but I never did it. Now at least I can say that I am doing what I always said I wanted to do. At least I can say that I am not as much of a liar as I used to be.
But back to the fish story.

Photo courtesy of Margie Miyoshi
There are times when I am writing that the words just flow. When ideas come fast and furious and there are not enough minutes in the day to get them all written. Jotting the ideas down for later is a great idea, but the original words always sounded better than whatever comes out in the end. Still, there are times when the spigot is wide open, and the ideas and words flow. These are times I relish.
The tough times are when ideas do not come at all. When the well runs dry and there are not even words to tell of those parched times. The drought can be long and dreary indeed when the ideas are long in coming.
Still, there are worse things for writers than the drought of ideas. The worst times are when an idea comes and even wiggles around a bit in the mind, but then flits away. The worst times are right after the one that got away.
I have had many ideas that flirt with my mind. The ones that sit just outside the periphery of my mind are vexing to be sure, but they linger just outside of reach, so I am patient. I know they will be back some day. Maybe even bigger and better than before. They are like the fish that nibble on the line, but never strike. But they stick around and I will get them one day.
The worst ideas are those that strike hard. They pull on the line and bend the pole. I reel and reel to get them in. Then, just when they are in sight, when their heads come above the water and their bodies are visible, they spit the hook. Those are the ones that seem to linger at the surface afterward just to give one last taunt before swimming away with a flick of the tail. Those are the ideas that got away.
I had one of those today. It was visible, but I am not sure how large it was. Then just when I was preparing my word processor. Just when I was ready to write, it spit the hook and was gone. The idea did not even spend one second looking back and I do not know if I will ever see it again. But I am sure it was a doozy.
I like fish stories. I have even told a few in my day. But I really hate it when I have a great idea, and end up writing about the one that got away.
© 2018 Michael T. Miyoshi
Sometimes I write stupid stuff. And then I post it.
Okay, truth be told, I usually post the stupid stuff. (Some of my friends tell me that all my stuff is stupid. But with friends like that…) Then again, who knows if it is stupid unless you post it. Well okay, I usually know. But I post it anyway.
So in reality, I guess that I am not that bright.
Truth be told, I try to write stuff to make people think or at least muse a bit. I try to write stuff that is pertinent to my life, albeit usually my foibles and follies. I try to write about writing. And of course, I try to write about God. Not all at the same time, but I usually touch on all those topics at some point in my musings. Which means that I am not thought of as an expert in anything. Except maybe me. Which means I do not have any real wisdom spewing forth about any topic.
Which is the whole point about my Musings anyway. I just write about me. (I think there is a song about that. Or at least about being me.) Or at least I write about things that interest me or are important to me.
When I started this whole blog thing, I never realized that it would take on a life of its own. I never realized that it would become more than just a place to publish my writing and get out a body of work. I never realized that I could say so much about nothing. I never realized how often I could say "I never realized" in one paragraph. I just thought I was doing what writers do. Write and publish.
Oh sure, writers do need an audience. (If a writer writes in the woods, does he make any sense? And even if he does would it matter if he did not have any internet access to post that silly blog that he wrote on a piece of bark that nobody else can read anyway?) Or at least people think that they do. In reality, writers are like other artists. They practice their art whether they have any readers or not. They post whether anybody follows them or not. They have a social media presence whether anybody retweets or reposts or recycles them or not. It is just part of who we are. Or at least it is part of who I am. I just need to write.
Well, I am not exactly sure where this has gotten me. I know that I write stupid stuff. I know that I post stupid stuff. And I know that usually somebody will read it and tell me I wrote stupid stuff. (Thanks Marc and Mike.) But it does not really matter. I write to write. It is part of who I am. Part of the way God created me. And so even if I only have a few readers (both real and imaginary), I write and post. Even if it is just stupid stuff.
© 2018 Michael T. Miyoshi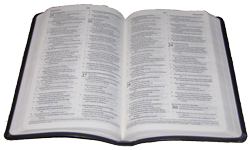 I hope God does not mind, but I do not always give my source when I quote the Bible. It is not that I am choosing to do what is expedient. It is that I want to speak truth into people's lives without getting into too much trouble.
Okay. So it is not necessarily true that I do not want to get into trouble for my faith. The thing is that I just want to speak truth into people's lives, and some people just do not want to accept those truths when they know the source. For instance, one of my sons quoted, "Ask and ye shall receive." I noted that he quoted scripture. He said that it is just a saying. I just left it at that. No use arguing. We both know the truth whether he wants to admit it or not.
I probably need to do it more. Quote scripture, that is. There are times when it fits the conversation. Times when it is necessary to stop a conversation. Times when the truth needs to be spoken. And many of those times, the people do not necessarily need to know where the truth came from. It is obvious that I was not the originator. But people do not always need to know that I am just quoting Jesus. Even though it is usually obvious.
I do like to cite my sources when I write. (My son quoted Matthew 7:7, even if he said it was just a meme.) But I do not feel it necessary when I speak. I am sure not many people do. After all, most of the original good ideas have already been taken anyway. But I am not trying to steal the Lord's thunder. Instead, I am just trying to spread the word a little at a time. Sowing seeds, so to speak. I know that some of those seeds will fall by the wayside, but some might fall on fallow soil. Some might grow right away and some might take some time to grow. (Parable in Matthew 13) But hopefully, the truth sinks in. Hopefully, people realize that I am not trying to take credit for truthful and powerful words. Hopefully, people realize that God loves you and so do I. (Which is a greeting, not a quote.)
At any rate, if you hear me quoting the Bible without giving the source, realize that I am just trying to speak truth into people's lives. I just hope God does not think it a sleight that I do not always give Him credit. I hope He realizes that I am not plagiarizing, I am just planting seeds of hope when I quote His word. Whether I give Him credit or not.
© 2018 Michael T. Miyoshi