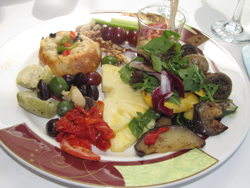 Sometimes we pile too much on our plates.
Sometimes I pile too much on my plate. (Okay, if you have ever seen me at a potluck, I usually pile too much on my plate. There is usually just so much that I want to try. But that is a completely different story.) I get busy at work and at home doing so much stuff. I have lists of things to do. Writing projects to finish, writing projects to start, blog posts to polish, stuff for work so the students do not revolt, stuff at home so the house is not revolting, a few things at church every once in a while, and all sorts of other things.
But I guess life is like that. You just keep piling things on. Sometimes because you want something to do. Or even need something to do. Sometimes because you think you are the only one who can do it. Sometimes just because you like to have too much on your plate. You like to overcommit. Overindulge. Overeat. (Oops. That is the other story.)
Maybe that is it really. At least for me. I just like to keep busy. I like to be doing something all the time. Whether it is learning or creating or even just doing something mundane. I like to do.
But there is value in sitting too. Of just being. Especially, if you are just doing nothing with somebody you love. After all, just being together doing nothing is valuable time. Time well spent.
I know that my time is limited. There are only twenty-four hours in a day. There are only seven days in a week. There are only fifty-two weeks in a year. And we are not guaranteed any of them. Which is probably why we try to put so much on our plates. Why we try to go through life balancing that plate piled high with veggies and bread and pasta and even desserts. (Oops. Wrong story again.) But regardless of what we are piling on our plates, we surely need to make sure that we are taking care of the important things. That we are investing our time wisely, doing what we need to do. Sure, we need to work hard. We need to finish those important projects. But we need to make sure we carve out time for those people who are important to us. Sometimes, we just need to sit and be with people. Sometimes, we just need to enjoy the moment. Savor the time we have.
And after we savor those precious moments, we can take our time and dig into that overloaded plate again.
© 2019 Michael T. Miyoshi

Resurrection of Christ
by Noël Coypel
This work is in the public domain.
If you are of a mind to go to a Christian church on Easter Sunday, you will most likely hear the words, "He is risen!" to which you will probably respond, "He is risen, indeed!" And you will be right.
The older I get, the more I realize that my own faith is firmly rooted in fact. Sure, there are experiences and feelings that go along with a relationship with God, but those experiences and feelings mean very little without the facts that back up my faith. I would be wretched indeed if Jesus had not risen from the tomb. Or if He had just been a fanciful fictional character in an outdated fictional book.
H.G. Wells said, "I am an historian, I am not a believer, but I must confess as a historian that this penniless preacher from Nazareth is irrevocably the very center of history. Jesus Christ is easily the most dominant figure in all history."
I wonder about this quote and thoughts from other non-believers who know about Jesus, but do not follow Him. I wonder how they reconcile the facts with their own decisions. After all, if this most dominating figure in history has captivated us for centuries, why do we not look closer at the facts? Why do we not dig deeper into this person who claimed to be God? Why do we just pass off the notion as ludicrous that Jesus was who He said He was, that He died and rose again, and that He wants us to follow Him?
I wonder about these questions and I realize the answer lies in a Fleetwood Mac song. God has said to us all that we can go our own way. And He said it to us from day one of human history. (Which is day six in Genesis.) So instead of looking at the facts and following where they lead, we choose to follow our own notions and go our own way. Every day.
The fact of the matter is that Jesus is risen indeed. This is not the most contested fact in history, it is the most attested fact in history. People have been trying and failing to prove it wrong for over two-thousand years. The Romans could have quashed the whole Christian movement once and for all by producing the dead body of Jesus. But they could not do it then and people cannot do it now. For Jesus is risen indeed. His body was only in the tomb a few days.
I know that people flounder in their faith. We have doubts. We wonder if the Bible is true. We wonder if Jesus is truly risen. And we are right to do so. We ought to flounder every once in a while. We ought to have doubts that God is there. Or at least we ought to question. Because as long as we truly seek the answers in those times of questioning, doubting, and floundering, we can find them. And we can know that the answers are rooted in fact. History proves again and again that the foundation of our faith is true. Just ask God to prove it. He will.
For you see, the most important words to know are just the beginning of our faith. Those words are written indelibly for all time and all people. And they are heard most loudly on Easter morning by Christians around the world.
"Jesus is risen!"
"Jesus is risen, indeed!"
© 2019 Michael T. Miyoshi
Spring break is a great time for those in education to relax, refresh, and recharge. Even if they still go to school every day.
Not everybody goes on fantastic vacations to sit on the beach and soak up the sun during spring break. There are certainly those who do, but there are also those of us who stick around. Certainly to relax and recharge, but also to keep up the skills and fitness of our athletes who are coming into midseason form. It is a fun time to work with those athletes who did not go on vacation and give them some needed one-on-one attention.
Do not get me wrong. I do not begrudge those who go on vacations to the beach or even those who do less exotic things like staycations, where they see the local sites. Nor am I complaining that I am not doing either of those things. After all, the rest of my family is working or at school. And truth be told, I like to work. Being with students and athletes is why I teach and coach. Yes, I enjoy the time I am away from them, but I like teaching and coaching high school kids. I am energized by their youth and enthusiasm.
Which brings me back to relaxing and recharging.
Even though I am off to work every day during spring break, the days are not as long. So I do get a chance to relax and recharge. I get to do projects at home, I get to sleep in a little longer, and I get to do a little more writing. Fun, fun, and more fun. At least for me. I like to stay busy. Being busy is relaxing, refreshing, and recharging. Having fun gives me energy. I am not the Energizer Bunny, but I do like to go, go, go. Partly because that helps me to sleep, sleep, sleep. So I can go, go, go again the next day.
I am all for vacations and staycations and just having fun. I am also for working and playing hard. After all, those are the things that help me sleep well at night. And after a few days of sleeping in a little bit, I am refreshed and recharged. I am ready to go once again. And that is what spring break is all about. It is a time to relax, refresh, and recharge. Whether I am at school each day or not.
© 2019 Michael T. Miyoshi