Remember · 11 September 2011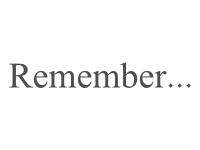 "I remember where I was on 9/11," is something we hear people say, especially as we approach the ten-year anniversary of that unforgettable day. Older generations remember where they were when President Kennedy was shot or when Pearl Harbor was bombed. And unfortunately, future generations will remember other horrific acts that people inflict on one another. Fortunately, time heals all wounds. Still, we should remember.
I cannot believe it has been a decade since terror filled the skies. Since heroes found themselves on panicked streets, burning buildings, and crowded planes. Since we watched in horror as the events of September 11, 2001 unfolded. I recall being shocked and mesmerized by the images on TV. I finally turned it off to return my classroom into some sort of haven of normalcy and sanity in a world gone mad. Time has muted those images and dimmed the memories, but I still remember.
As the memorial to those who died in the fall of the World Trade Center is dedicated and new buildings are constructed, we are faced with the truth that we must move on in life. We must continue building and living. Just as ground zero could not remain a crater forever in New York City, neither could we cower in fear believing the world had turned into utter chaos. As in all such situations, order was restored even while the pain was still lingering. For many of us detached by distance, the pain and bitterness of the tragedy has subsided. But still, we must remember.
Recently, a friend of mine lost her husband. Their baby daughter lost a father. Still more recently, my uncle lost his wife. My cousins lost their mom. In both cases, the rest of us lost a relative and a friend. Yet even during the pain of losing our loved ones, I know that we are remembering and celebrating their lives. Even though we are crying, we are reminiscing and maybe even laughing, too. Yes, even as we mourn, we remember.
Whether we are missing and mourning our loved ones who recently passed away or those who died during the terror of 9/11, we still must remember them and the parts they played in our lives. We must remember how they lived rather than how they died. We must remember the love that we shared. The pastor at our church has often said the only things we take with us when we die are our relationships to each other and with God. This makes sense and comforts those left behind. For the love we keep in our hearts is part of our relationship. Part of our loved ones. Part of our remembering.
Not everybody will have monuments erected for their accomplishments or memorials built for us to remember how they died, but we will all have somebody remember us. Hopefully, we can be remembered with fondness. Hopefully, we can be remembered with love. After all, those who remember us when we are gone are our legacy. They are our monuments and memorials. They are the ones who remember.
As I look back ten years and remember where I was when terrorists attacked and destroyed, I cannot help but have hope. People were changed by the events of that day, but they were not destroyed. People were hurt and lives were turned upside down, but time is healing. Just as it does with all our wounds and losses. Pain does subside and even the images we want to keep vivid become clouded in our minds. But we can keep our loved ones in our hearts. As long as we remember.
© 2011 Michael T. Miyoshi
Comment
Commenting is closed for this article.