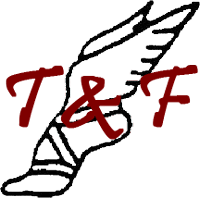 I never would have dreamed I would fall in love with a sport I never really participated in, but coaching Track and Field (T&F) for the past three seasons has been a blast. I have thoroughly enjoyed it even though I never put a shot or threw a discus or javelin before I started. But like teaching and coaching (any sport), the reason I love T&F is because of the people.
What has made me fall in love with Track and Field is the interactions between people. Coaches share information and techniques with each other. They cheer on athletes from other schools. They even laugh and cry with each other and their kids. There are rivalries and competitions, but those are secondary to everybody learning and getting better as coaches and athletes.
I love the interaction between athletes too. Many of them do not care whether they win or lose to each other. They just care about whether they got another Personal Record (PR) and performed well. Everybody asks each other, "Was that a PR?" High fives and hugs are often exchanged between competitors when new marks are set. For the most part, people compete against their old times, distances, and heights rather than against each other. There are heartbreaks when somebody does not get to go to the district or state competition, but tears often dry and smiles emerge when somebody else points out the performance was a PR or at least a great performance.
Recently, we had our two-day district meet. I marveled again at the collegiality and cooperation between coaches. And I saw interactions that pointed out to me just why I love Track and Field.
During the first day at the discus competition, one of the athletes from another school in our conference rolled her ankle. She was able to compete, but was hampered by the injury for the javelin and shot put competitions, which happened on the second day. Coaches and athletes from other schools were not excited that a top competitor was not having her best days. Instead, they were all concerned for her health and well being. When it was all over, coaches and athletes were telling her that she still had a week until the state meet to get healthy and prepare for two of her events.
In all sports, athletes from opposing teams might be friends off the court or field, but I have not seen them warm up with each other except in Track and Field.
The boys' javelin competition at the district meet was hotly contested. Sixteen athletes started the competition in two flights. Each thrower got three attempts. Then, the top eight would get three more attempts to determine the champion and which four throwers would move on to the state meet. Four of the top eight were from our conference and from different schools. They stood around together waiting to see who would be in that final flight and three more throws. These four had competed against each other all year in conference and invitational meets. They were athletes from different schools, yet they were just javelin throwers trying to best their previous marks and maybe beat the others in the process rather than fierce competitor trying to bash each others' brains in. When the final throwers were announced, these four athletes took a jog together to warm up for their final attempts. That lap together along with the congratulations and consolations all the athletes gave to each other, both during and after the competition, made the meet special for me. It reaffirmed my love for the sport and the people involved.
Sports are supposed to help prepare students for life and I have seen how high school Track and Field does. Competitors get to see how coaches can help each other and root for everybody not just their own athletes. They understand that they can cheer for each other and compete against themselves. They gain a little perspective with each practice and meet.
I still cannot believe how much I have come to love this sport called Track and Field, but I know I will stick around because of the people.
© 2012 Michael T. Miyoshi
Comment
Commenting is closed for this article.