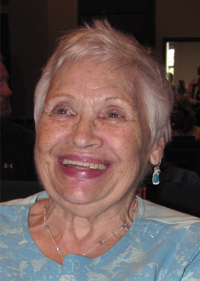 She introduced herself as Darlene and then proceeded to tell me, "But everybody calls me Gramma Dar."
Darlene is a woman full of life and love. She has season tickets for the seats across the aisle from us at church. She stays seated when the congregation rises to sing, because of her frail condition, but her arms move enthusiastically to the music and she shows her love of God. My wife and I love to watch her worship.
It is also fun to see her fist pump out of the corner of my eye as I hear her shout ,"Amen!" at some point the pastor is making. He even acknowledges her from the pulpit with "Thanks Gramma Dar." While she might seem fragile with her walker, she is full of life and love.
Gramma Dar shows her love and support with more than her shout outs to the pastor. She loves to give hugs and everybody is either son, hon, darlin', or my love. One Sunday she met a man I was talking with. She said, "I give hugs." When he did not really know how to reply, she reached up and they hugged each other. Another person was welcomed into her ever growing family.
It seems that each week after church, people line up to greet Gramma Dar. We all get one of those big hugs and an "I love you," or "God bless you," or both. She means every word of both of these greetings and she shows her love and warmth with those big hugs. Nobody would doubt that her love is endless. Or that she has an infinite supply of hugs and blessings.
I know that Darlene gets and gives her love from the abundance of God's love. She obeys the greatest two commandments to love God and love others. Gramma Dar lives like the old song says, "Love is something if you give it away." She keeps getting more and more love because she is so willing to give it away. To everybody.
Darlene is one of those people everybody feels akin to right away. It is the way she lives. It is the way she is made. She loves people, even total strangers, like they are her children or grandchildren. Which is why everybody calls her Gramma Dar.
[Note: When I showed the original draft of this piece to Darlene, she was a bit shocked and amazed. "I did not know people saw me this way." It was a typical, genuinely humble response from Gramma Dar.]
© 2012 Michael T. Miyoshi
Comment
Commenting is closed for this article.