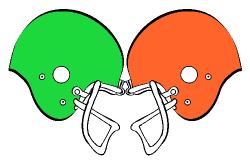 When the NFL conference championship games were over, I called my Mom to see what her reaction was to the fact that the Seahawks were playing the Broncos. She was sure that the Seahawks would win. It was the not the reaction I was looking for.
In retrospect, I should have realized. Mom had switched her loyalties long ago and was not going to waver from supporting her beloved Seahawks for an old flame.
We lived in Colorado a long time ago, but I think it is still a state law that all citizens there be Denver Broncos fans. I am sure the doctors there give out tiny Broncos flags to the babies when they are born and there is no need to worry about whether baby blankets are blue or pink because everything there seems to be orange and blue. So it was natural that Mom was a Broncos fan from the time she was born.
I remember watching Broncos games with her when I was a kid. It was always a challenge not to get bruised sitting by Mom watching a football game on TV. It was like she grew up in the rowdy section of the stadium. She would squirm when the team was struggling. She would get rowdy when the team was on offense and feisty when they were on defense, sometimes even heckling the players from the living room. She would cheer and boo on just about every play. In many ways, she was as entertaining to watch as the games.
Seattle was just an expansion team back then, but being such a rabid fan, Mom despised the Seahawks. Just because they were in the same division of the AFC as her beloved Broncos. I am sure she will deny it, but I heard Mom say she would always bleed orange and blue, that she would always be a Broncos fan, that she would never ever be a Seahawks fan. She made this bold statement on the eve of our family moving to Washington in the late seventies.
As it turned out, "never" was only a year. The Seahawks were not the team they are today, but somehow they endeared themselves to my Mom. Orange and blue turned to blue and green and she has rooted for those Seahawks through all the ups and downs over the years. She is loyal to her team. She is a true blue (and green) Seahawk.
Even though Mom has been a true blue and green Seahawks fan for so long, I figured I would get some rise out of her seeing that her team was playing her old team. She did not even flinch. She even told me that she publicly announced that she and one of my cousins must be the only family members rooting for Seattle in the Super Bowl. (My brother, Scott, who was not born in Colorado, did not get his required orange and blue baby blanket, and was too young to become a true Broncos fan would argue that point, but that is a different story.) Mom emphatically dismissed the idea that she might still hold a flame or even a flicker for the Broncos. She is a Seahawk all the way.
Personally, I am intrigued by the Super Bowl this year. It is interesting that two old division rivals would be playing. However, it is even more interesting that the two teams both held my Mom's loyalty, albeit at different times.
It is too bad that I did not get the reaction I wanted from Mom when I asked her what she thought of the Super Bowl matchup. And while it would be fun being there watching her watch the game, regardless of the outcome, I know what her reaction will be at the end of this game.
© 2014 Michael T. Miyoshi
Comment
Commenting is closed for this article.