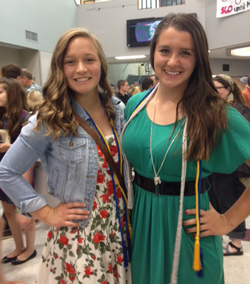 Photo courtesy Bailey Parish
I never realized that trips or events could have theme songs until we got one for the trip to the state track and field meet.
Many couples have their song. That song that makes them think about their early days. Or that fits who they are. Or that was on the radio when their eyes first met. It is almost cliché to think that every couple has a song. Regardless of how long they have been a couple.
Then again, maybe it is not so ludicrous that people can have their own songs. Even individuals. After all, we associate songs with movies and TV shows. And even individuals. The William Tell Overture will forever be linked with The Lone Ranger in the minds of those who watched the old black and white TV show. And even though we might not know that the song is called The Imperial March, we all hear his theme when we think of Darth Vader.
Even though couples and at least fictional characters might have their own songs, I never figured events could have theme songs until I went to the 2014 state track and field meet.
I was the chauffeur for our two female field event competitors, Kathryn and Bailey. We started out together at the school leaving after the rest of the crew, so the two could practice the day before their events. Before we left, the girls teased me about rocking out in the Suburban, but we had a nice ride down. Listening to country tunes, but not too loud.
I do not think it was planned, but each day of the three-day meet, we three rode together, and we had a great time rocking out in the Suburban.
On the second day after both girls had competed, we got into the vehicle and they decided that they did need to turn up the tunes. We had already established that country was a good choice for everybody. (Even if it does make Bailey's mother's ears bleed.) They almost made my ears bleed with the volume, but we were having a good time.
Then it happened.
A song that both Kathryn and Bailey liked came on the radio. They turned up the already loud radio and started singing along. "Oh my God, this is my song; I've been listenin' to the radio all night long…" It was fun hearing them sing so enthusiastically. (Bailey stopped for a second mid-song and asked if she needed to do pushups for taking the Lord's name in vain.) But the Luke Bryan song, Play It Again, came on again and again and again during the weekend. We heard it every day and at least three times one day. It was even part of a commercial for one of the radio stations. So naturally, it became our state track and field song. Every time I hear it now, I will think of that weekend. (I will also deny singing out loud at the top of my lungs.)
I suppose it is appropriate that a song that is about hearing a specific song should become a theme song. Even though we were not searching for a theme song, it fits somehow. In a strange, ironic sort of way.
In the future, when I think of the state track and field meet, I will remember my athletes. I will remember their events and their performances. And when I remember this particular meet, I will think of Kathryn and Bailey blasting the radio in the Suburban and singing along. I will remember our state track and field meet theme song. And I will want to Play It Again.
© 2014 Michael T. Miyoshi
Comment
Commenting is closed for this article.