Be Proud · 24 January 2015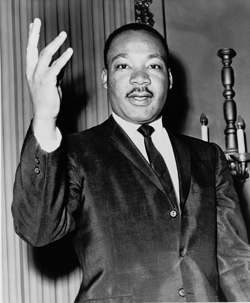 "Martin Luther King Jr NYWTS"
by Dick DeMarsico, World Telegram staff photographer – Library of Congress. New York World-Telegram & Sun Collection. Licensed under Public Domain via Wikimedia Commons. This work is in the public domain.
The students of Cedarcrest High School should be proud of themselves on this Martin Luther King, Jr. (MLK) Day. Indeed, their parents and certainly their teachers have every reason to be proud of their behavior at the MLK assembly.
The Martin Luther King, Jr. assembly at Cedarcrest High School was a celebration of Doctor King's life, but more, it was a celebration of diversity. The diversity of our country and of our own student body.
There were many diverse students involved in the assembly and that in and of itself was impressive, but the way the students who were not "on stage" became engaged and involved was the wonder to behold. I daresay that many adults could take a lesson from all the young people in the gym that day.
Even though the population of Cedarcrest High School may not be too terribly diverse, there were students from every segment of our student body represented in the assembly. Students from the newly created Diversity Club led the assembly and performed a dance routine at the end. Students from the Gay Straight Alliance read a poem. Students from all the Japanese language classes performed a traditional Japanese song. A couple of students performed two Native American songs. A student sang a song in Russian and English. Another student performed a Hula Hoop dance routine. There was a video of Cedarcrest students talking about Martin Luther King, Jr. and diversity and equality and respect. It was an amazing array of students showing all those present that respect was alive and well and living in the Snoqualmie Valley.
One of our newest teachers was asked to speak at the assembly. He started off with a quip about how it was almost cliché that they would ask the new black teacher to speak at the Martin Luther King, Jr. assembly. He commented about how he was amazed that people in the Northwest treated each other with respect and dignity that he did not always see growing up in the south. A south where the main site-seeing attraction in his hometown was the slave auction block. His speech was a fitting end to a great MLK assembly.
As wonderful as all the kids and adults participating in the assembly were throughout its entirety, the beginning of the assembly really set the tone for it all.
After the initial introduction, the choir sang the national anthem. They did a great job and people stood with their hats removed and most placed their hands to their hearts as is expected. The choir sang a cappella and there were more than a few voiced cymbals from the crowd (at the appropriate times) as they sang. It was a pretty normal beginning. Nobody could have imagined that what was coming would be so special.
Before I go much further, I must admit that I am a bit biased. I suppose I have the right to be since I have taught at Cedarcrest High School for almost twenty years now. I love the students and staff, but I must say that I do not remember a time when I have been more proud of them than in the moments after the Star Spangled Banner to the end of the Martin Luther King, Jr. assembly.
The first speakers up were a small group of students with special needs and some peer tutors that helped them in various ways – mostly being physical or emotional support. Travis read an original poem composed by their teacher called I am Me. And Proud. All the students in the small group around him under the spotlight said the words, "I am me. And proud," or at least held up signs with those same words after each stanza. By the end of the poem, almost all of the students in the gym were repeating, "I am me. And proud."
After Travis was another student, Nikole, who was to read another original poem, I Stand Strong, also composed by their teacher. But she could not get the words to come. She even started crying at one point. Her teacher came out and kneeled on the ground a few feet in front of her to give her encouragement and support until she was ready to read in her native tongue, Russian. When she finally spoke and her classmate interpreted for her, it was a beautiful moment. It was inspirational. It was amazing. But even more amazing was how the students in the audience treated her in the moments before she spoke.
Everybody was silent after the I am Me. And Proud. poem. Nobody in the audience knew what was next, but they saw the small group of students continue to stand in the spotlight and waited expectantly. Time marched silently along as everybody waited. There were not even hushed conversations or rustling of clothes as people watched and waited silently. It was a few moments before it became obvious that the speaker was not able to say anything. She may have been scared being in front of everybody or she may have been distraught about the words she could not get out. Regardless, the whole gym remained silent. The only thing that anybody heard was her hushed cries.
While the silence was amazing and showed immense respect, it was also full of encouragement. It was as if all the students and faculty were silently pulling for her. Surely prayers and thoughts of support filled the gym that afternoon. The relief and feelings of love were palpable when she finally spoke after who knows how long. I did not recognize the language, but it and the interpretation were beautiful. At least as beautiful as the silent support her audience gave her.
The same respect was accorded to all the speakers and performers.
One of the staff members commented after the assembly that even though he could not speak for the reverend doctor, he was sure Martin Luther King, Jr. would have been proud of our student body. A thread of emails were sent from staff members to commend the organizers, the participants, and the audience for their part in the best MLK assembly in remembrance.
The nightly news often shows us all the worst in people. The media focuses on how far we still have to go in granting civil rights to all. But on one afternoon in one Martin Luther King, Jr. assembly at one high school in one little town in the state of Washington, students got it right. They showed us that people can be loving and accepting of others. Certainly, they do it most of the time, but they saved their best for a special day of remembrance and celebration of a special man and his righteous cause.
I know I am biased, but I am proud of the Cedarcrest High School students and staff. They should be proud of themselves too. For they understand and live out the dream of which Martin Luther King, Jr. spoke. And they showed it on one very special afternoon celebrating his life and our diversity.
© 2015 Michael T. Miyoshi
Comment
Commenting is closed for this article.