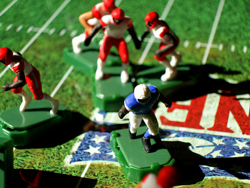 On Any Given Sunday by John Morgan
licensed under CC BY 2.0
Armchair quarterbacks will debate the play long after the Seahawks lost Super Bowl XLIX to the New England Patriots. And so might conspiracy theorists.
Everybody in the universe thought that the Seattle Seahawks were going to give the ball to Marshawn Lynch on the one yard line with 26 seconds left in the Super Bowl. It would have been the go ahead touchdown and put the team in position to win its second championship. Armchair quarterbacks and coaches will even dismiss the thought that the ill-fated pass was "a throw away play" to eat up time as Coach Pete Carroll suggested.
"Give the ball to Lynch and let Tom Brady try to beat the Legion of Boom with less than twenty seconds left," is what everybody was thinking. He is good, but maybe only good enough to get them into field goal range with that time and that defense. Maybe. And if he does get them three points, you take your chances in overtime. So why waste a play. Feed the beast and let trust the defense to secure the win.
People will debate this for years to come, but I applaud Coach Carroll on his Truman-esque "The Buck Stops Here" mentality. That sense of responsibility rather than blame will keep the Seahawks on top for a long time. It sort of deflates any thought that there might have been some conspiracy behind it all. But somebody will come up with some anyway, so why not think it through.
Some people might wonder if the quarterback was trying to garner the glory. Russell Wilson had a great day up to that point, so why not give him one last chance to be the hero with his arm? An MVP award would look good on his resume. But given the coaches and players, that theory holds no water at all. They are a team in every sense of the word. They have shown over and over again that they believe they are brothers on one team fighting for one cause. That unity plus the quarterback's willingness to take the blame for the loss quashes a Russell Wilson glory day conspiracy.
Other people might think that the front office called the play. "Don't give the ball to Marshawn Lynch or we might need to pay him more money. He might even win the MVP award." Other organizations might do that to their coaches, but Paul Allen and company let their coaches coach. After all, they pay them big bucks to make those kinds of decisions. Let them make them. Besides, they reward performance. News sources are saying that the Seahawks want to reward Lynch for his past performance. They want to give him the money he has earned. They also appear to be behind him in the way he does not dance for the media. Coach Carroll has Lynch's back and gives him support and encouragement. In short, the front office and coaching staff could not have been part of some anti-Lynch conspiracy.
In this humble writer's opinion, there was no conspiracy. There was certainly a missed opportunity. There was certainly a flaw. Great football minds have said over and over, "There are only three possible outcomes to a pass; two of them are bad." The Play was the worst outcome ever.
That Coach Carroll and his staff taking the blame for the loss is certainly refreshing in this age of no accountability. But what I believe was the key to making that decision is what went wrong.
Coach Carroll has said all season that he prepares his team like each game is a championship game. He treats every game the same. He prepares his team for the intricacies of each opponent and he prepares them well. The problem with Super Bowl LXIX was that Coach Carroll did not remember his own philosophy. He forgot that it was just another game.
All of the Seattle fans and indeed the entire universe thought that it was just another game. Nobody thought that twenty seconds was too much for the Seahawk defense to keep Tom Brady and Company out of the end zone. The fans all thought that the Beast would be released. They all figured that Pete Carroll would do what he has always done – let Wilson and Lynch do their thing. If not a read option, a power play. Everybody in the stands, on the field, and in the viewing audience figured that the touchdown was inevitable. And it would have been if Coach Carroll had treated it like any other game. He would have scored the touchdown and let his defense do their job. For some reason, he remembered it was the Super Bowl and treated it differently than other games. He forgot his own lesson. Or at least it seems so to me.
I admire the Seahawks and their organization. They show the world that people can love what they do. They show us that passion can be contagious. And they show us that people really can take responsibility for their actions. These are life lessons that games like football are suppose to teach us. Sure, the game is entertaining, but the lessons are still real.
As much as I like the thought of intrigue and conspiracy whether it is showing up in sport or other aspects of life, I cannot believe there was any in the last twenty seconds of Super Bowl LXIX. It was a terrible play call, but it was a lesson in life. You live with it, learn from it, and move on. A dynasty is being built in Seattle. It just took a misstep. On one big stage. On one big play.
© 2015 Michael T. Miyoshi
Comment
Commenting is closed for this article.