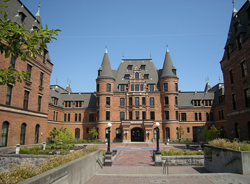 Stadium High School, Tacoma, Washington
(original size 3,188 × 2,340 pixels)
by Joe Mabel licensed under CC BY-SA 3.0
Some traditions get better with time. I am not sure how our tour of "Washington Hogwarts" (a.k.a. Stadium High School) could get any better than on our high school's 2014 trip to the state Track and Field (T&F) meet. But the tradition is certainly getting better.
The 2015 grand tour of Stadium High School (Dean, one of our coaches, dubbed it The Tour 2.0) actually started a year ago. On the Cedarcrest High School 2014 trip to the state T&F meet, we were fortunate to have a wonderful guided tour of the castle called Stadium High School. Naturally, I wrote about the experience because what happens at state does not stay at state. It gets written about in a blog. At least if MediocreMan is around. The blog post about that experience did not see the light of day until we went to state this year because I was hoping to get it in print in the local newspaper or at least in its digital space like some of my other pieces have been. Which meant that the story spent a year waiting to be submitted at an appropriate time.
Sitting and waiting ended up being a good thing.
I did not want to just post my story about our first tour without ensuring that I would not get anybody in trouble if more than a couple people saw it. So naturally, I sent the story to somebody who was able to get our first unnamed tour guide, Chris, into trouble. This official liked my story and assured me that there were no repercussions. In fact, he said that they often give people impromptu tours. Needless to say, I kept that little tidbit of information in the back of my mind.
As the state T&F meet approached, I kept looking to see if The Seattle Times sports editor put my story in the paper or on the web. I was hoping to be able to send our gracious Stadium hosts a link to the story that was more prominent than just my own blog. Alas, the story never ran.
The morning that we were going to leave for state, it hit me that I had contact with somebody who could arrange and authorize an "impromptu" tour. I emailed my new digital acquaintance and asked if it was possible. He said it was, and with a few texts and phone calls, our next adventure into Stadium High School was scheduled.
The majesty of Stadium High School is apparent from far away. It stands like a grand old castle inspiring awe with its beauty and grandeur. Which is why our kids like to lovingly call it Hogwarts. As we arrived on the evening of our tour, Bruce, our head coach started to tell the stories of years gone by. But he never really finished those stories because our tour guide, Matt, ushered us in the front door.
I shook Matt's hand and introduce myself since we had only met on the phone, texting and talking to arrange the tour. He greeted everybody and we were on our way. We spent almost no time with the tiger and pictures of dignitaries in the entry. But the kids admired the metal tiger sculpture, and like the year before, I saw it roaming the halls in protection mode, thankful that I was a welcome guest.
Bruce asked Matt to show us whatever he thought was cool about the building. Matt obliged and told us he would take us everywhere but the lower commons where an event was taking place. I am not sure if Bruce told him we were on a bit of a schedule or if Matt just knew he could only shirk his other duties so long (even though it was his boss who gave him my number), but we were off at a brisk pace.
We went up one floor to the venerable old stage. It was as majestic as I remembered it even though there were folding chairs on the audience floor. I could imagine music being played on the grand piano as we looked at the spacious area. Bruce, with his movie encyclopedia brain told us that 10 Things I Hate about You had been made at the school. Matt added to the lore by telling us about a couple people who traveled from Australia (or from some faraway place) just to see the place where the movie was filmed only to find that the school had been renovated since then. They were a bit disappointed, but like us, still marveled that they were on location of an actual film.
Matt then took us up the stairs to the highest tower. We were in the tower opposite from where we started our tour the year before. But instead of taking us into the classroom to see the courtyard, he invited us into a secret place.
We entered through a short doorway and ducked our heads as we traveled in the attic space above the school. Matt told the group to stay on and follow the red line on the floor. And he surely told them to watch their heads. Bruce led while Dean and I brought up the rear of our column with Matt. Somebody opened a door and a beam of light shone in the dark. When we got there, Dean and I looked too and saw a ladder to the roof. Matt told us that it was an amazing view, but visitors could not go there.
We walked along stooping happily following the painted red line. Along the way, we saw names scrawled everywhere. There was even an outline of a body like at a crime scene. Matt told us that these were signatures of seniors. Their school tradition was to let the seniors leave their mark on the school. The student pride would never allow such marks to go anywhere that could be seen, but there in the attic where only seniors dare tread on a given day, student put their marks. Matt, who graduated from Foss High School, said that he wrote his name and school in the attic when he was first hired at the school. He chuckled and said, "I figure somebody will find it and scratch it out eventually."
One of the most interesting aspects of the attic was the rough-hewn timbers. These told a tale of more than just the school's age. They told a tale of craftsmanship and pride. They told of a day gone by when people cared about more than just the façade, but also the structure behind the visible. They told of risk and even romanticism. At least to me. And I hoped that the sight of those rough trusses would at least pique the curiosity of our kids and the Stadium seniors who ventured into the attic.
When we got to the door at the end of the line, we found that we were in the tower opposite of where we started. In fact, we were actually right outside the room where we started the tour the year before. We walked down the winding staircase that leads all the way to the bottom floor. (Apparently the staircases screamed for vertigo-inducing selfies to be taken and several of the athletes leaned over to do so.)
As many breath-taking views that there are in Stadium, Bruce asked our gracious host if he would take us to the best view in the place. Matt replied, "Well, I can't take you to the best view," Dean and I shared a knowing look as we remembered the door with the ladder to the roof, "but I can take you to a great one."
Matt took us to a classroom that overlooked the bay and the stadium. We took turns looking out of a turret-like part of the room and took in the fabulous panorama that was the day to day view of Stadium students. Our own students wondered in their own unique ways how anybody could get any work done in this beautiful place. Then, being true to their teenage selves, they asked if they could go to the stadium.
The stadium, from which the school derives its name, is amazing. The seats themselves look to be carved out of the hillside, but they are concrete. However, there is evidence of a carving process. The stadium has a full football field, but there is only a partial track. The track was made even less full when part of the hillside fell away and took a turn of the track with it.
Despite not being carved out of the hill, the stands are still amazing. Matt replied with a negative nod to a question of whether the stadium is ever full for games. "There are thousands of seats here." Though they would never be full for games played at the stadium, those seats would be full of a hundred years of stories. Those seats could tell stories of presidents and other dignitaries who have visited. They might even tell of our athlete who went to midfield and then ran back up the stairs.
We all had our own set of stairs to climb out of the bowl where the stadium sits. It would have been a fitting end to our tour. But there was just a bit more. We saw the up-to-date gymnasiums, the state of the art theater, and, of course, the underground pool. When we were outside again, we marveled that the small squares of opaque glass where we were standing were small light portals for the pool below.
We thanked Matt for the tour. He had remarked at the start that he wanted to be remembered as the best tour guide. Better than the one before. To be fair, both The Tour and The Tour 2.0 were amazing. Both were filled with awe and wonder. Both took us to places that we had never been before. At least not invited. But Matt may have succeeded in his quest. While he did not regale us with stories and history as did our first guide, he did take us where only the initiated get to go. Our foray into the inner sanctum was the best.
Bruce did not get to give the kids his whole spiel on Stadium. He did not get to regale them with tales of forbidden excursions of the past. But the tradition of going to Stadium High School is forever engraved in our hearts and minds. Each group of student athletes that travels to Stadium gets to be part of the tradition and the stories continue to grow. We hope to keep alive this tour tradition as well. Who knows, maybe the other custodians who gave Matt grief over his cushy assignment to take us on a tour will be our guides someday. Maybe, just maybe, Tour 3.0 will be even more amazing. I cannot wait for our next annual trip to Stadium High School. I cannot wait to continue being part of the Cedarcrest state Track and Field tradition.
© 2015 Michael T. Miyoshi
Comment
Commenting is closed for this article.