What do you say about somebody who has taken care of you for twenty years? Happy Mother's Day would almost work if it was the right season (after all, she has been my school mom for so long). And Thank You is not enough. But it is a start.
Thank you, Linda. For being my school mom. For helping me get my legs under me when I first started teaching all those years ago. For being the smiling face that has greeted me in the morning practically every day. For doing those little things that make my life easier.
Thank you. Thank you. Thank you.
For those who do not work in a school, especially a high school, Linda is the person who makes things hum along smoothly. She is, rather was (actually, at this writing still is for a few more days), the head secretary at Cedarcrest High School in Duvall, Washington. She has lived in the community for her whole life and has been the face of our high school since it opened. (Actually, even before that when the high school and middle school were on the same campus in Carnation.) And now she is leaving.
Linda is retiring.
There are many of us who wonder what we will do without Linda. We wonder who will help us with our forms. Who will help us get our reimbursements filled out properly. Who will take care of us when we need something that only she knows where they are. We wonder how the school will function without its head. Sorry, Clarence (he is the principal), but we all know that Linda is the one who makes things go. And as you have rightly said so many times, we just need to ask Linda when we do not know what else to do.
Now that Linda is retiring, some of us will need to do more. We cannot just ask her where this is or how to do that. We cannot just think that Linda will take care of something for us. We cannot just rely on our school mom being there for us anymore.
I have heard it said that people make about as much impression on an organization as a finger in a glass of water. If that is true, the finger has been in this glass of water for many years inside a freezer. Linda's impact is indelible. And even though she is going to be replaced, her indelibleness is where it matters most anyway. In our hearts.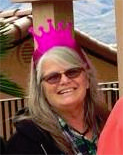 The thing about Linda is that she has been the mother hen to not just the students, but to the teachers and other staff members at our school. She is an educator. She is a mentor. She is a confidante. She is a co-conspirator. She is a great friend (digitally and in person). She is the glue that holds it all together. She is the school mom to us all.
Talk about big shoes to fill. Linda's are huge. (I am sure she is sorry about that.) But when the new school year starts and the phones start to ring and the kids and teachers start to return, Linda will be at home enjoying herself. And her replacement will wonder what is happening. That is when the rest of us will remember Linda. We will not compare the new with the old. We will not say, "Linda did this," except to help instruct and guide our new head secretary. We will remember Linda's example and be mentors and friends and that smiling face.
Linda is retiring. And even though she will still be right down the street, we will all miss her. Not just because of all the things she did for us, but because of who she is. These words are not enough. And thank you is inadequate to express our gratitude for who you are in our lives. Still, we say it.
Thank you. Thank you. Thank you.
Congratulations on your retirement, Linda. Thank you for being part of my life. Thank you for being my school mom and for taking care of me for these past twenty years.
© 2015 Michael T. Miyoshi
Comment
What a wonderful dedication to a wonderful person. Very well said Mike. I am very lucky to call Linda my friend and this is why.

— Jodi · 17 June 2015, 06:49 ·

Well said Mike! For most of my 30 years at Tolt Linda was a shining light for me. Have fun in retirement Linda. You sure earned it!

— Jane Byram · 17 June 2015, 07:32 ·

Michael, Great article about a great Lady! Linda has been a positive influence in a lot of lives for quite some time! Thank you for showing her the honor and respect she shown all of us all these years! Linda enjoy your retirement you more than deserve it! Matt Keikkala Tolt H.S. Class of 89

— Matt Keikkala · 17 June 2015, 17:43 ·

Love our Linda!

— Deb Walters · 17 June 2015, 19:51 ·

I graduated in 1984 Tolt High, I loved Linda, probaby she wont remember me. I grew up in Duvall and Carnation, My dad was Gary Specht. Linda had to have known I used to write my own excused notes… Thanks for being a respected mentor, you probably didnt know…

— Lynette Specht · 18 June 2015, 09:46 ·
Commenting is closed for this article.