Listen · 22 August 2015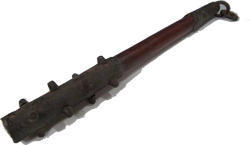 Antique Japanese Arebo wood club
(original size 600 × 450 pixels)
by Samuraiantiqueworld licensed under CC BY-SA 3.0
I am sure we have all had the thought, "Somebody must be trying to tell me something."
It seems this experience is universal. It goes something like this. We hear a preacher (or a friend or relative or maybe even somebody we do not know) telling us about something that is relevant in our lives at the precise moment we need to hear it. And then, we hear it again from somebody else. And again from some other source. The something could be advice or insight or just a consistent message. It could come from friends, relatives, dreams, or even the media. It is an odd occurrence, but like I said, it seems to be universal.
And annoying.
When I get messages like this in my life, it is like being hit over the head with a cudgel. At least until I finally listen.
My sister and I were emailing back and forth about this recently. I was telling her that I had recently been diagnosed with glaucoma. She was telling me that I have lots of support from friends and family. And of course, she was telling me that God was with me. Then, she went on to the misquote many people give as advice or consolation to those in pain or suffering. She said that God does not give us more than we can handle.
I was nice about it when I replied, but I told her in no uncertain terms that God does indeed give us more than we can handle. He gives us or at least allows us receive more than we can handle so that we must turn to Him. When people say that God does not give us more than we can handle, they are misquoting 1 Corinthians 13:10, which says (NASB translation):
No temptation has overtaken you but such as is common to man; and God is faithful, who will not allow you to be tempted beyond what you are able, but with the temptation will provide the way of escape also, so that you will be able to endure it.
The interesting aspect of the whole conversation was that this was the same text that the preacher at my sister's church spoke about that Sunday at their service. Talk about getting cudgeled. At least it was not me doing it. Or receiving it.
I have had such experiences before. In fact, it seems that each week the pastor at our church is speaking directly to me. But I have also had the opposite experience. Many times I think, "I wrote about that one time." Not that I am a preacher or Biblical scholar or anything like that. But there are times when I know I have written about some aspect of what the preacher is saying. Which makes me feel good. Sometimes it even makes me feel smart. But usually I just wonder if the preacher is stealing my stuff.
Actually, I never wonder if anybody is taking my material. In fact, I would love it if somebody used my material. For more than just bird cage liner.
But back to the cudgeling.
It is nice to get messages from God. Even when it seems like we are getting hit over the head with them. Over and over and over again. Maybe we ought to take those messages to heart. Maybe we should listen when we have that thought, "Somebody must be trying to tell me something."
© 2015 Michael T. Miyoshi
Comment
Commenting is closed for this article.