(I wrote about Dan, that great fisherman
Who each year tossed his line out as only fishermen can
He cast in his bait to catch him a newb
"Some rookie," he thought, "just might be a rube."
After many a year he finally did catch one
He was a truly big fish, a monstrous Montana son.
But when I wrote about Dan, the fish I neglected
A fact with this rhyme, I hope I've corrected.)
An ode to a fish but not just any old sort
The fish that was caught was a jolly good sport
He was not a trout, not a salmon nor sucker
He was what they call a truly big lunker
But this lunker was never caught in some pool
This lunker was caught in our very own school.
The fish is a trusting soul, one might say naïve
He did not seek advice on who to believe
For he thought his colleagues would not let him fall
Or might warn him of dangers of the fisherman's call
But not one contradicted Dan's yearly ruse
After all, one might bite and that all would amuse
So all straight-faced agreed with Dan's silly lies
For everyone thought that the fish would get wise
After all not one believed Dan in the years before
No robes had been worn nor even been bought from the store.
But as I already said, naïve was our Justin
For that smile of Dan's, he was a trustin'
So he bought a grad robe like all the grads don
He was excited for grad night to put his robe on.
When he told Dan the news he knew he'd been had
(Saint Nick might just tell you that Dan had been bad.)
The grin on Dan's face gave the whole ruse away
There was really nothing that Dan had to say
Poor Justin he knew that the joke was on him
As the fish on the line he was the one Dan reeled in
But he took it in stride, he laughed at himself
(Even if he agreed with that jolly old elf.)
Like I said that ole fish was a jolly good sport
He didn't give Dan a single retort
As a matter of fact he was not even sore
He just quietly sent the robe back to the store
And after the laughs died down at the end
The fish calls the fisherman a truly good friend.
But the story's not through of that fish we call Justin
When he is with Dan, I'm not sure I'd be trustin'
For now on the dock there's not just one fisherman
Yes Justin sits next to ole fisherman Dan
They are casting their lines in to catch them a newb
They want to see if one of them is a rube.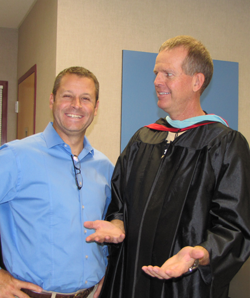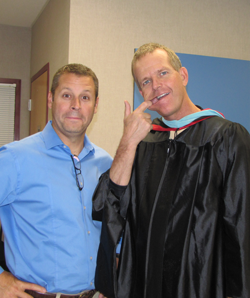 © 2015 Michael T. Miyoshi
Comment
Commenting is closed for this article.