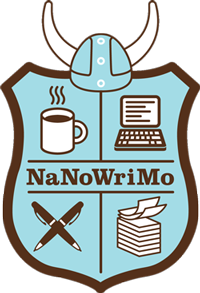 Image courtesy of National Novel Writing Month.
It is November and that means writing. Personally, I am not going to do NaNoWriMo this year. But I definitely encourage others to participate.
November is National Novel Writing Month. (Thus the shortened version NaNoWriMo.) People from all over the world take to their keyboards or pick up their pens and paper to write, write, write. All month long. Professional and amateurs and wannabes start something that most will either not finish, deny they ever started, or lie that they met their goal of 50,000 words put to paper or stored on their computers. Okay. That is not a fair assessment of the month or its writing goals. It is merely my own jaded assessment of my own feeble efforts during the month.
Many years ago, I participated in NaNoWriMo. (I even wrote a blog post about it. Two in fact.) But I did not even get close to 50,000 words. Probably because I was blogging at the time and spent my time divided between the two efforts. One of my friends and faithful readers asked me one time what I thought I might be able to accomplish if I just focused all my efforts on my book writing or my blogging. He suggested that maybe I might actually get good at one or the other. At least up to mediocre.
I have thought about it many times since then and he is probably right. I might be able to live up to my moniker. But I just cannot give up either form of writing. So I split my limited writing time between blogging and book writing and do not get much better at either.
Which brings me back to NaNoWriMo.
I would say that NaNoWriMo is just a diversionary tactic for me. It takes me away from my writing goals. It makes me think that I can finish a decent novel in a month. That I can get 50,000 words onto my computer and flesh out a story in just thirty days. That I can jump start my writing by stuffing word after word into my computer. I know the goal of NaNoWriMo is to get people to quit saying they want to be writers and get them to just write. So for me NaNoWriMo is superfluous. I am a writer. Not an on paper published one. Not a famous one. Surely not a great one. Just a self-admitted mediocre one. But I am a writer.
I definitely applaud NaNoWriMo and its participants. Indeed it was a great kick starter for me when I tried it. I put my heart and soul into writing one November. I wrote and wrote and wrote. I did not make my 50,000 words in thirty days. But since that first try, I have written well over 50,000 words. I have several hundred blog posts and I have a bunch of digital books out there too. Not all because of NaNoWriMo, but because I have always believed God made me a writer and that I better not disrespect His wishes. Or put the gifts He gave me on a shelf.
Still, I must say that I do have a goal for NaNoWriMo. That is, I have a goal for November. That goal is to get the second book of my series, Autobiography of a Sixth Grader, onto the digital shelves. It is finished. It is polished. It just needs its cover. My artist friend and faithful reader finished the cover. I just need to get it ready for digital publication. And then it is off to Amazon for readers to download.
So while I may or may not get 50,000 words written this month, certainly not toward one project, I do want to get a novel done and out the door this NaNoWriMo. I also want to encourage others to write and get their word counts up. After all, it is November. And whether you participate in National Novel Writing Month or not, November, rather NaNoWriMo, still means writing to me.
© 2015 Michael T. Miyoshi
Commenting is closed for this article.