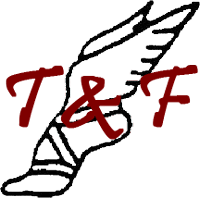 It does not happen often, but I met a living legend. At the Washington 2016 State Track and Field (T&F) meet.
I was sitting at the javelin area getting ready for the 2A competition. I had settled into my spot at the fence ready to watch my athlete compete against fifteen other athletes for the state title. Other coaches and spectators were sitting by me too. Just before the competition started, a seasoned coach, decked out in his school warm ups, came and sat by me. He used the chain link fence to help himself get seated. "Sitting down's not a problem, but I might not be able to get back up," he smiled. I chuckled and smiled back.
As the competition commenced, I wrote down the distances each of the girls threw. I wanted to know what it was going to take to make it through preliminaries to get to finals.
(In championship T&F field events (except for the vertical jumps), the athletes get three preliminary attempts. The athletes are split up into "flights." In our case, two flights of eight each, half in one flight, half in the other. The field is then narrowed by these preliminaries to see who goes to finals. In our high school state competition, the field is narrowed from sixteen to nine competitors. Those nine finalists then get three more attempts. The competitor with the best mark of the six attempts is the champion. Which is why I was keeping track of everybody's throws.)
It was apparent as the first flight progressed that my athlete, Judy, would need a very good throw this particular day. Maybe even a personal record (P.R.). Just to make the finals. My as yet unknown companion agreed with that unsaid assessment, and made comments about many throws. I heard, "That was a nice throw," many a time.
When the second flight started, both of our athletes came over to talk to us after each throw. Judy threw first and had a decent attempt. When she came by for her normal post throw conference, I told her to "throw through the point," a javelin term to emphasize where the energy must be directed. As she nodded and jogged away, my companion said knowingly, "How many times have you said that." I smiled and nodded back.
When his thrower came over, he acknowledged her good throw and joked that she got the first attempt measured for once. (Not only that, but she had already made finals according to my chart.) She smiled and jogged away. As the preliminaries finished, we knew that Judy did not make finals, but she had a great first experience competing at state.
I stayed seated to watch the finals, but did not keep as good of track of the throws on paper. It was fun to hear my companion tell his thrower, "It just takes one." He celebrated with her when she hit a milestone P.R. on her first throw in the finals. She jumped in the standings from sixth to second or third. She jogged away smiling as he told her once again, "It just takes one."
On her last throw of the competition, my companion's young charge got another P.R. One that put her atop the leaderboard. She was excited to share that moment with her coach. Then, they waited for the measurement of each throw after hers. The next to last thrower threw mere inches less than my companion's athlete. The final thrower was the leader going into finals and was projected to be the champion even before the meet began. Before her last throw, she was sitting third. Still, the truism that "It just takes one" was possible for her too. It seemed that my companion held his breath as the thrower threw her javelin. A good throw it was too. But when it was measured, I congratulated my companion. His thrower had won the competition by my calculations.
"I won't believe it 'til I see the official results," was what he said. He had trusted my chart all competition, but he knew as did I that it was not official. Still, his eyes held pride and wonder. A state champion.
I left the javelin area happy to have met a fellow coach. A coach who had helped an athlete become a champion. But of course, that is not the end of the story.
When I got back to our claimed area in the stands, our head coach told me that the gentleman I was sitting next to during the javelin competition was a legend. And it was not just his athlete he was proud of, it was his granddaughter. Which gave a whole new meaning to the look the coach had when his athlete won the championship.
Shortly after I was told that I had been sitting by a living legend, the living legend himself came and sat across the aisle from us. Coach Bruce Flanagan and his wife, Alyce, were watching others compete. I was so excited that I barged into their enjoyment of the competition and introduced myself. I actually talked to the living legend and his lovely bride.
I found out that Coach Flanagan and his wife have been involved with girl's track and field for fifty-some years. He and Alyce started Flanagan Clan Girls Track Club in 1963 in Woodland, Washington a year after they were married (before Title IX allowed girls to compete in track and field at the state meet or any high school meet). Even before they had children of their own, they coached young girls in their area and watched with pride as they grew up and went to their respective local high schools to compete during the Track and Field season. "When they got to be high school age, we told them that they were school athletes during the season and could come back after it was over. It was fun to see them go out and compete against each other," Coach Flanagan told me.
Alyce told me that they had been to the state T&F meet for over forty years. "We only missed two years."
Coach Flanagan completed the thought, "When one of our granddaughters was playing softball in the state tournament we went there to support her." (That granddaughter will be playing fast pitch for Seattle University starting next season.) It was a good thing that they attended this year's state T&F meet though, for it was a different granddaughter (the younger sister) who won a first place medal.
This year as in every year, the Flanagans watched the state competition as their female athletes from their club and athletes that Coach Flanagan coached at Woodland High School competed in the various events. They have seen many great competitors come through their club over the years. And their legend and legacy continue to grow.
Alyce was more apt to brag on Coach Flanagan's accomplishments than he was, and you could tell she was proud of him. Proud of the club they had formed together. Proud of their athletes' accomplishments in T&F. Proud of their children and grandchildren. I was glad that they allowed me to sit and chat with them for as long as I did. I hope they did not think me too much of an imposition as they watched and reveled in not just their granddaughter's accomplishments, but in the accomplishments of current athletes and those spanning over half a century.
When our conversation was over, I realized how fortunate and blessed I was to meet a man and wife who have done so much for women's track and field. So much that we now take for granted. And I was thrilled that I could meet and spend a little time with a living legend.
© 2016 Michael T. Miyoshi
Comment
Commenting is closed for this article.