Photo courtesy Marc Hillestad
If you know my friend, Marc, you understand what is coming next. If not, let me explain.
I have known Marc since 1995. Twenty-some years. (Actually, twenty-two so far, but who's counting?) We got hired to teach in the same year and are still at it. Both teaching and teasing. (Marc would say he is a facilitator not a teacher. And he would say that he is not teasing me, but just telling it like it is.) At any rate, we have been friends for a long time.
Marc does not just like to tease me though, he likes to challenge me too. He challenged me again recently. In public, no less. He threw down the gauntlet. He insulted my composition prowess. He dared me.
He dared me to write a haiku about him.
Well, not being one who needs to wait for a double dog dare, I took him up on the challenge. But I could not stop at a haiku. I have a few more words for Marc. In haiku, in limerick, in verse, and in song.
…in Haiku
Marc dared me in public
I will not disappoint him
With nothing but wind.

…in limerick
I have a friend named Marc, he
Is always a little bit snarky
It is all in good fun
No matter the deed done
Just don't give the man a good sharpie.

…in limerick (again)
Marc, he is a friend of mine
He is uncouth, some do opine
But he's always there
To show he cares
I am glad he's a friend of mine

…in verse
Marc challenges me in so many ways
It is because he has known me so many days.
Just do not ask him how he does it
For he'll just say I am full of spit.
Still, he tells me I should work to be
The very best that I can be:
"I know mediocre is a reach for you
But I believe it's something you can do."
He also helps me be more positive
In what I say and how I live.
He even helps me remember an English lesson
About ending a sentence with a preposition.
Yes, my friend Marc likes to challenge me
To be the best that I can be.
Especially when I miss the mark
I know I can count on my friend Marc.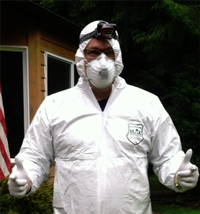 Photo courtesy Marc Hillestad
…in song (sung to the tune of Amen)
Hey! Marc. (Sing it louder now.)
Hey! Marc. (Hallelujah!)
Hey! Marc. Hey! Marc. Hey! Marc.

…and a last haiku
A force of nature
Using your powers for good
Thanks for the challenge.

© 2017 Michael T. Miyoshi
Comment
Commenting is closed for this article.