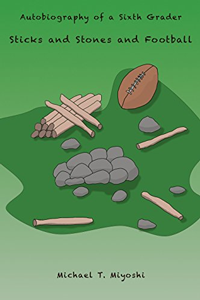 I am trying to figure out whether readers of middle grade fiction read digital books.
I just released Sticks and Stones and Football on Amazon. It is the latest book in my series, Autobiography of a Sixth Grader. It and all but one of my books so far are only available digitally. Which is why I have been wondering if middle grade fiction readers read digital books.
I know that I am not much of a traditional writer. I just write stuff and put it out there. If people see it, great. If not, I am okay with that too. Sure, I would love people to read what I write, but I am not going to tell everybody that the stuff I write is the greatest thing since sliced bread. For one thing, it certainly is not. For another thing, it is just not my style. I would much rather lift other people up than myself. I am just not much of a self-promoter. At least not in person.
Okay. Not much digitally either.
I have thought about putting all my digital books in print. Actually, I plan to do so. There are just so many decisions to make. So many things to do. Which is one reason I have so many digital books. They are easy. Relatively so. Just write, edit, upload. Voilà! Books online.
Okay. There are a few more steps. You need to make a cover and decide on pricing. But that is about it. Which is why I say that publishing digital books is a piece of cake.
(Would be writers come up with all sorts of excuses why they do not write. Why their books do not even show up on digital bookshelves. But they all come down to the same thing. Any excuse will do. I ought to know. I have used them all at some point or another. But that is another story.)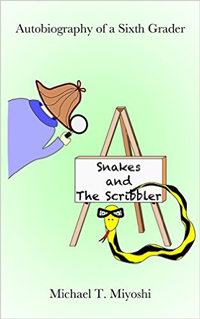 I really do wonder if middle grade readers read digitally. Like I said, I have thought about it since I have been writing middle grade fiction. Since before I put Show and Tell & The Great Ice Cream Caper out on the digital bookshelves. But obviously I do not worry too much. I just keep writing. I just keep putting them out on the bookshelves. And they just keep sitting there waiting for those middle grade readers (or their parents) to pick them up. It ought to be easy. After all, those with Amazon Prime can get them for free. But what middle grade reader has Amazon Prime?
Ah well.
In the end, it does not really matter whether middle grade readers read digital books or not. I will keep writing them. Actually, I have all the books in the series done now. Or at least what I think is done. Maybe one more edit on the last one. And covers for books six and seven. I am actually even ready to release book five. I just did not want to release two books on the same day. Or even the same month. It is part of my marketing strategy.
When all is said and done, maybe a few middle grade fiction readers or their parents will pick up my books. Maybe they will even read them. Maybe they will even give a review or two. (By the way, I read all five or six reviews again the other day, and I was touched by their loving sincerity.) And maybe they will let me know whether middle grade fiction readers read digitally.
© 2018 Michael T. Miyoshi
Comment
Commenting is closed for this article.