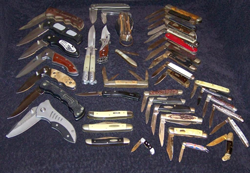 A Collection of Pocketknives by Partyzan XXI
licensed under CC BY-SA 2.0
I like to respond to the #SixWordStory prompts given by Writer.ly (and others) on Twitter. They are a fun way to get my writing day started. And sometimes there is a story behind the story.
My dad used to love pocket knives. He gave me many over the years. He also gave some to my siblings and my children. And he taught us how to use them properly.
Don't cut toward yourself.
Keep your fingers out of the way.
Make sure others are out of harm's way.
I mostly listened to those dos and don'ts, but I still cut myself. So much so that I got (and still get) teased about it. By just about everybody. So when the "Write a story about finding a knife with blood on it" prompt came from Writer.ly one day, I just wrote something about me.
"Cut your finger? No knives for you."
Yes, I know. Seven words. Naturally, I apologized for using seven words along with the label of the prompt. #BloodyKnife. I also put the labels #AmWriting and #SixWordStory on the reply to ensure people knew it was a six-word story rather than a comment of what was happening at that moment.
(By the way. I am grateful that nobody on Twitter actually chastises me for going over the six-word limit. I usually stick to the limit, but sometimes I see the #SixWordStory as #SixishWordStory. Six is just a guideline. But that is a different story.)
At any rate. I thought this was going somewhere, but in reality, I just wanted to say that I really do know how to use knives. And I have not cut myself in quite a while even though I use knives almost every day. That statement probably does not bode well for me in the near future, but I will stand by it anyway. Besides, if it does end up being a self-fulfilling prophesy (in a negative, sarcastic way), then I will have another story.
Such is the life of a blogger. Everything is a story. Sometimes, those stories are just six (or maybe seven) words. And sometimes, there are longer stories behind those six-word stories.
© 2018 Michael T. Miyoshi
Comment
Every time I've visited the Six Word Story hashtag, I've seen people be pretty friendly about stories that go slightly over the limit.

I'd say you're in good company. :)

— Lydia · 3 December 2018, 10:21 ·
Commenting is closed for this article.