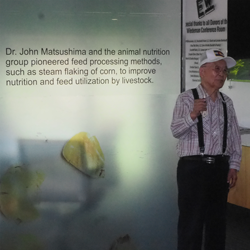 Family reunions are fun. At least when you love your family and enjoy being with them. And I certainly love mine and enjoy being with them.
One of the reasons I love my family is because it is unique. I know. All families are unique, but mine might even be a bit more unique. After all, I am not sure there are that many families who have both sides of the family participate in a reunion. And at this one, there were even more than just my mom's and dad's sides of the family. There were people from parts of at least two family trees, and even some from related orchards.
There were several great things about this latest family reunion. Parts of the Matsushima, Miyoshi, Namba, Onishi, and other families who are all related somehow came from all over the country and even from Japan to be together. We had introductions and get-togethers and even pre-get-togethers. We had excursions and eating and gatherings and more eating. (They are probably still eating leftovers from the reunion.)
At any rate, we all had a great time.
One of the great things that happened was that we got to tour the animal science building at Colorado State University. We even got to go see the office of one of its eminent (retired) professors. Those might not seem like such grand things to do at a reunion, but they were. After all, the office was Uncle Johnny's. And it sure seemed like the building was the house that Uncle Johnny built. I knew he was outstanding in his field (yes, that is a farmer joke), but I did not realize that he was such a rock star. He even had his own wall dedicated to his cattle feeding innovation. It was an amazing tour. I liken it to an Elvis fan going to Graceland. But we were all related to Elvis!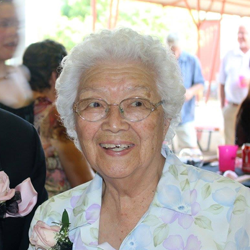 Photo courtesy of Larry Matsushima
One of the saddest things that happened actually came after the reunion. My Auntie Lil passed away. She was seemingly in good health, but was suffering from dementia. I did not see Aunie Lil much since her diagnosis, but it was like she was happy to meet me for the first time whenever I did see her. Still, she seemed like the same Auntie Lil in the ways that mattered. She still appreciated good food even though she could not make her own delicious creations anymore. She still seemed to fuss and worry over the details even though she could not help to make them right. She still smiled. And she still wanted to make sure people were comfortable and happy, which she could still do with her smile. We will all miss her. I am thankful and grateful that I was able to go to the reunion to see her for one last visit.
I must say that the best thing that happened at the reunion was that I got to see cousins and cousins of cousins that I have not seen in years. Decades in some cases. I even got to meet some of my cousins' grandkids. Those connections and reconnections were special. They were special because sometimes we take for granted that we will see each other again. But when it has been so long between meetings, we wonder. Still, we know we have connections. In our family, we have memories of the farms and other time spent together. We have memories of past reunions. Of Pounce. Of fireworks. Of just being together. Of laughter and love. Indeed, we have bonds that cannot be broken regardless of distance or time.
I love my family. I love our family reunions. They are important reminders that we are still connected in the ways that matter. Even when we may not get to see each other until next time. Whenever that might be.
© 2019 Michael T. Miyoshi
Commenting is closed for this article.