There is always a silver lining in every bad situation. You just need to look for it.
The pandemic has not been a great time. Mostly because of the disease itself and the pain it has caused. It has also kept people apart, which may be a good or bad thing depending on your perspective. Still, many people have seen the silver lining of being cooped up in their own homes. They have seen that being apart and slowing down has kept people together as family units. Or drawn them closer as family units. That is an amazing silver lining in and of itself.
I had a personal silver lining at the beginning of the school year.
I have been teaching high school since 1995. A long time. I love to do it. The energy of the student and the love of my colleagues and friends are what keep me going. (Yes, that love is sometimes shown as razzing and kidding, but that is another story.) And even though the first day of school is not necessarily the most important day in terms of what students learn, it is surely an important day in terms of getting to know each other and setting the tone for the whole year.
I love that first day of seeing my colleagues all ready to go. They are either cool, calm, and collected just waiting for the day to start, or they are running around frantically trying to get that last thing in place. I love when the kids start arriving and are wandering through the halls. The ones who have already been there are walking around greeting teachers or just soaking it in or pretending to be aloof. Their energy says, "I am ready and excited for the new school year," whether their words say the same or not. I love greeting my students and letting them know that I am excited for a new school year.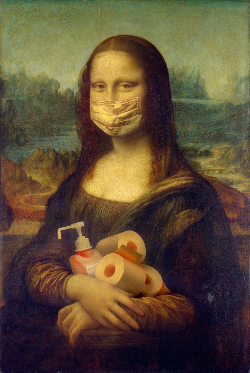 We did not get to have that kind of first day this school year. COVID kept us out of the classroom. Or at least it kept the kids out of the classroom. We did not get to experience the energy and excitement of the kids being around each other in the school building. But the kids were excited to be there. Even online. They would rather have been together in the high school building, but they were glad they at least got to see each other and their teachers via video meetings.
For me, the silver lining of the pandemic was that COVID let me experience another first day of school. For without remote learning, I probably would not have been able to greet my students on the first day of the 2020 school year. I would have been home tending to the pain of shingles. And I would surely have missed more than just a day of being with my students and colleagues.
To be sure, I was at home tending the pain of shingles that first day. But the pandemic let me open school to keep my streak alive since 1995. And that was indeed a beautiful silver lining. Of course, it was not the same as opening school in person, but I was able to be there. I was able to introduce myself to my students and start them on their way to another successful year of high school. Not the opening that any of us anticipated a year ago. Not an opening with much fanfare. But surely an opening with much hope and anticipation, if not a bit of trepidation.
When it comes right down to it, I might be a bit of a Pollyanna, always looking at the bright side of life. But I cannot help but see the silver linings. Especially one amazing silver lining of the pandemic. The silver lining that COVID let me open up the new school year despite the fact that I had shingles. Yes, there is always a silver lining to every situation. Even with two bad ones together.
© 2020 Michael T. Miyoshi
Commenting is closed for this article.