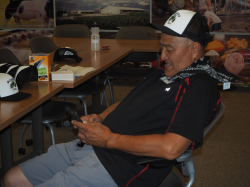 Ronald Lee Matsushima
(June 17, 1958 – November 14, 2020)
It is difficult to write about somebody who has just passed away. Difficult because we wonder why. We wonder at unfairness of it all. We wonder how we are going to get through it. And then even in the midst of all that wondering, we realize how blessed we were to have the person in our lives for even what seems the briefest of moments. Then it becomes clear what to write.
Dear Ronnie:
(I know you asked us cousins and other family members to call you Ron a long time ago, but try as we might, we all went back to calling you Ronnie. I was glad when I talked to you about it once, and you said it was okay. It was not that you just accepted it as a fact of life. It was more that you realized that Ronnie is not a kid name, it is your family's love name for you. I was glad we had that short conversation because it was nearly impossible to call you Ron when we had loved you as Ronnie for so long.)
I do not know if you knew this, but you were one of my heroes growing up. I looked up to you for many reasons. I remember you joining in the huge games of pounce. I remember you playing horseshoes or Jarts. I remember playing catch with the football and even playing baseball in the field. I remember those family gatherings at the farm in the summer and on weekends like they were yesterday. And I remember you helping to make sure that us younger cousins were included too. I even remember you and Larry letting us keep a game of Monopoly going in your room over several weekends. All those seemingly little things made you special in my eyes and in my heart.
Another thing that you might not know is that I really wanted to play the drums when I first joined band because you played drums. I loved to go to the parade in Greeley on the Fourth of July to hear the Valley High Marching Band play. But when it came right down to it, I could listen to the ratta tat tat, boom, boom, boom, crash of the snare drums, triples, quads, bass drums, and cymbals as they played the cadence for all the bands. I loved to see all my cousins in the band, but seeing and hearing you in the drum section was a real treat.
I am sure that you must realize that my love of cars was mostly because of you and Larry. Of course, you two were the ones who taught me to drive the tractor. I always remember that you made it seem that I was driving even though you were the ones who jumped up and took control on the turns. You deftly stepped on the inner brake and got the tractor and wagon going down the proper row. Then I just sat there thinking it was me steering instead of the rows mostly keeping us going where we needed to go. But the biggest driving thrill I ever had was when you told me to take your Corvette for a spin. It was no big deal to you. It was just a car. But it was huge for me. Not only did I get to drive a Corvette, I got to drive my hero's car.
You and Randy were the ones who enhanced my love of photography. I was amazed when the two of you got those fancy SLRs. You took pictures at every family gathering. Watching you two take pictures with those fancy lenses and flashes were enough to make me want to take amazing pictures when I was old enough to get a cool camera like you. I must add that you are definitely the reason I like taking candid shots of people. I remember you snapping pictures of people when they were unaware. "Ronnie!" was often shouted by the unsuspecting subject. Then, you laughed and snapped another picture of whoever's disgusted face.
As we got older, I enjoyed watching you from afar. I saw your dedication to Karen, Kirstie, Stephi, and Drew. I loved getting those Christmas cards to see where you had traveled in chasing your kids around the country. Trips to faraway places to play volleyball and basketball and just to see family. It was always a thrill to see where you had been and to read about what you had done.
Of course, I know that family to you was always much more than your immediate family. Parents and siblings of course, but also aunts and uncles and cousins and even cousins' cousins were part of your family. You treated everybody special. And you always made sure people were taken care of at family gatherings.
"Do you have enough?"
"We have more if you want some."
"Let me know if you need something else. If we don't have it, I can get some."
I could probably write much more about you. After all, I did not even mention the fabulous Independence Day fireworks show you and Larry seemed to put on every year. Or the generosity you always showed to everybody. Or the quiet way you just took care of people. I know that all of the things I have written are ample reasons why you were one of my heroes even beyond my childhood. But they are just a tiny glimpse into who you were.
Thank you Ronnie for being such a gentle soul who touched my life. Thank you for being part of my family. Thank you for being one of my heroes in life. Thank you Ronnie for just being you and blessing all who knew you.
Love,
Michael…
Ronald Lee Matsushima (June 17, 1958 – November 14, 2020)
© 2020 Michael T. Miyoshi
Comment
Michael- what a wonderful tribute/memory of Ronnie. Yes, he is, and will always be Ronnie. Miss you and hope all's well with you. love you lots, cousin…. :)

— Nancy · 25 November 2020, 08:30 ·
Commenting is closed for this article.