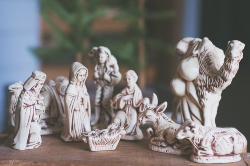 Christmas 2021 is a different Christmas.
(Even though I wrote the first line in present tense, I am writing it before Christmas day. I need to do that. Especially since I give a preview to my Twitter and Facebook audience (as few in numbers of both real and imaginary readers as they are) a preview on the Thursday before. But I figured that I needed to write something since my actual blog posting date falls on Christmas again this year.)
Much about Christmas this year is the same. We are gathered together as a family. We read the Christmas story. The one that started in Bethlehem in a stable because there was no room for them at the inn. The one that is tied to history and God. The one that features Jesus, the reason for the season. Yes. Our children are grown (just not all moved out). They have their own ideas and beliefs and notions. But they still need to be reminded where it all started. And yes. Commercialism and surely other reasons have us celebrate the holy day at a time of year that is not the same as when it all really started. But that does not negate the why of the season.
The other thing that is the same, and becoming increasingly more obvious, is that none of us needs anything for Christmas, but there are still lots of presents under the tree. We are still giving each other gifts. Which is okay. As long as we are still giving those gifts with love. With careful thought about each recipient of said gifts.
So what is the same about this Christmas this year is that we love each other, and want to be together to celebrate the day.
One other thing that is the same is that I am up before everybody else.
Christmas day is special. I get up when everybody else is asleep (which is not the reason the day is special). I take pictures of the whole Christmas scene. And I revel in the quietness. The peace of the morning. Not that I need to get up at 4 a.m. like I automatically did when I was a kid. After all, I could get up at noon and still revel in the quiet of the morning. (But that is a completely different story.) I just wake up early because Christmas day is magic.
What will be different about this Christmas is that I will not call or visit Mom. She went to fully understand the reason for the season. She went home to be with Jesus. In fact, this will be the first year when I do not have any parents to call to wish them Merry Christmas. It will be the first year when I am sad they are not here to celebrate with us. It will be the first year when I cannot go to visit for at least a couple days.
The pain of loss is overwhelming at first. The first year of different traditions can devastate people. But I will continue to be comforted by the hope and assurance that I will be united with my loved ones again when we meet in the presence of the Lord. And I will continue to concentrate my time and energy on those who are here with me.
Yes. It is probably contrite and overused and cliché (which I know is redundant), but my favorite Christmas present is the presence of my loved ones. My family will continue to be the greatest gift I have ever received.
Merry Christmas to all. I hope that you get to know the reason for the season. And I hope that your greatest Christmas present is Christmas presence. Regardless of whether this is a different Christmas for you or not.
© 2021 Michael T. Miyoshi
Comment
I'm sorry for your loss! Merry belated Christmas.

— Lydia · 27 December 2021, 07:53 ·
Commenting is closed for this article.