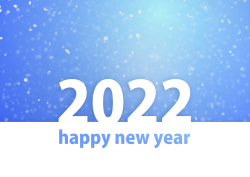 Happy New Year! It is 2021! Oops. 2022. Ah well. Lots of time to make that mistake.
I suppose that I will make the mistake of misdating things for a while. I remember it taking almost all of January to get used to the new year when I was a kid. I would need to erase the year and put the correct one down when I turned in school assignments. I am not sure I will need to do that very often this year.
I for one, am glad to be shut of the year 2021. (Yes, to be shut of something is an old term meaning that you are done with it. Which is apropos since it is like shutting the door to the old year.) To be sure, it was a strange year. And a sad year.
I will always associate the year 2021 with the COVID-19 pandemic. I know. The pandemic started in 2020. In fact, that was the year that I got shingles. And being home for COVID doing remote school was the reason I got to start school. The pain would have been too much to actually get to school that first week in September 2020, but I got to start my 26th year of teaching because COVID had us working remotely. So even though 2020 was really the year that was most disrupted by COVID (for me), it was the year that COVID was a blessing in disguise because I got to keep working through the initial pain of shingles.
The thing about 2021 was that it was a terrible year in the world of education. Or at least my world of education. We had remote school at the start of the calendar year, but then we participated in a disastrous experiment in education, hybrid learning.
I need to interject something here. When I say disastrous, I mean for the vast majority of students. There were certainly students who thrived during remote and hybrid learning. Students who might have been bullied or who were shy or who were not very social beings were often the people who did well. They kept up in their studies because they had lots of time to do so. And they could handle the technological and social challenges of being isolated. Unfortunately, those people who thrived during remote and later hybrid learning were the outliers. Still, I recognize their differences and hard work, and I applaud them for their achievements.
But back to disasters.
The disasters of hybrid learning have been learning shortfalls and socialization issues. You can look up lots of writing about those issues, so I will not dwell on them. What I will say is that those of us in education have a lot to do in the near future. And probably in the not so distant future.
The other big reason I am glad to be shut of 2021 is that my mom went to see Jesus. Which is a reason to rejoice to be sure. But it is also a reason to be sad. For even though I am sure I will see her again, I do not get to call her on the phone or see her in person again. To be sure, my siblings and I are not orphans. But we do not have our parents with us anymore.
Even though it was not the best year of my life, I cannot leave 2021 with bitter thoughts. There have been wonderful things that happened too.
I learned how to throw the javelin. Which will help me give my athletes a better experience as I coach them in the future. I got to see friends and relatives that I have not seen in years. I learned how to play my guitar better. I got a banjo for Christmas. I learned how to draw better. Plus I got two more books on drawing, a new sketchbook, and colored pencils for Christmas. So there were positives to 2021 even in the midst of pain and sorrow.
One last thing. I will leave you with a short poem for the end of one year and the beginning of the next. Yes. The title is almost as long as the poem itself.
Goodbye 2021, Welcome 2022
I am so done
With 2021.
I'll be glad to see you
In 2022.
Happy New Year 2022!
© 2022 Michael T. Miyoshi
Comment
Commenting is closed for this article.