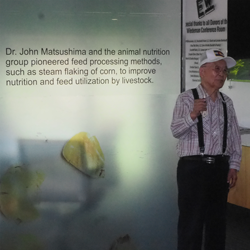 Family reunions are fun. At least when you love your family and enjoy being with them. And I certainly love mine and enjoy being with them.
One of the reasons I love my family is because it is unique. I know. All families are unique, but mine might even be a bit more unique. After all, I am not sure there are that many families who have both sides of the family participate in a reunion. And at this one, there were even more than just my mom's and dad's sides of the family. There were people from parts of at least two family trees, and even some from related orchards.
There were several great things about this latest family reunion. Parts of the Matsushima, Miyoshi, Namba, Onishi, and other families who are all related somehow came from all over the country and even from Japan to be together. We had introductions and get-togethers and even pre-get-togethers. We had excursions and eating and gatherings and more eating. (They are probably still eating leftovers from the reunion.)
At any rate, we all had a great time.
One of the great things that happened was that we got to tour the animal science building at Colorado State University. We even got to go see the office of one of its eminent (retired) professors. Those might not seem like such grand things to do at a reunion, but they were. After all, the office was Uncle Johnny's. And it sure seemed like the building was the house that Uncle Johnny built. I knew he was outstanding in his field (yes, that is a farmer joke), but I did not realize that he was such a rock star. He even had his own wall dedicated to his cattle feeding innovation. It was an amazing tour. I liken it to an Elvis fan going to Graceland. But we were all related to Elvis!

Photo courtesy of Larry Matsushima
One of the saddest things that happened actually came after the reunion. My Auntie Lil passed away. She was seemingly in good health, but was suffering from dementia. I did not see Aunie Lil much since her diagnosis, but it was like she was happy to meet me for the first time whenever I did see her. Still, she seemed like the same Auntie Lil in the ways that mattered. She still appreciated good food even though she could not make her own delicious creations anymore. She still seemed to fuss and worry over the details even though she could not help to make them right. She still smiled. And she still wanted to make sure people were comfortable and happy, which she could still do with her smile. We will all miss her. I am thankful and grateful that I was able to go to the reunion to see her for one last visit.
I must say that the best thing that happened at the reunion was that I got to see cousins and cousins of cousins that I have not seen in years. Decades in some cases. I even got to meet some of my cousins' grandkids. Those connections and reconnections were special. They were special because sometimes we take for granted that we will see each other again. But when it has been so long between meetings, we wonder. Still, we know we have connections. In our family, we have memories of the farms and other time spent together. We have memories of past reunions. Of Pounce. Of fireworks. Of just being together. Of laughter and love. Indeed, we have bonds that cannot be broken regardless of distance or time.
I love my family. I love our family reunions. They are important reminders that we are still connected in the ways that matter. Even when we may not get to see each other until next time. Whenever that might be.
© 2019 Michael T. Miyoshi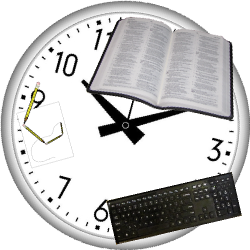 There is something to be said for routine. You know, doing the same thing over and over and over again.
There is something to be said for routine. You know, doing something over and over and over again. Until it is a habit. Until it is ingrained in your body and soul. There is comfort. There is familiarity. There is a certain amount of peace. Even if that routine is early in the morning or late at night. Or any time.
I enjoy routine. I like getting up early and reading my Bible, eating, and writing. I do it pretty much every day whether I am going to work or not. This routine is comforting, and it gets me going in a positive direction each morning.
The strange thing is that I find it more difficult to write when my routine is disrupted or when I write later in the day than usual. I am not sure what it is. Maybe it is that my brain is used to working a certain way at a certain time. Maybe it is that I am compartmentalized as psychologists say. Maybe it is just that I am making excuses. Or maybe I just do not know what it is I am supposed to write about today.
In the end, it does not really matter. I am in my routine. I am doing what I am supposed to do. I am writing. Even if it is later than usual. And that is about it.
There is something to be said for routine. There is comfort in doing the same thing over and over and over again.
© 2019 Michael T. Miyoshi
I do not like getting woken up. Especially just before 3 am. Sheesh! But what are you going to do? Sometimes the earth shakes and up you wake.
I have felt three earthquakes that I remember. I must say that I would rather be woken up and tell bad jokes to one of my kids who was still awake (I asked him if the earthquake shook him up) than be in the other situations. Okay. Neither of the other two was that bad, but how often do you get to tell stories about earthquakes?
The first earthquake was the worst of them all. I have no idea how severe it was, but I know that I was in the worst situation of the three during that first earthquake. I was under a car. Not completely under mind you. I was rotating the tires on my wife's car. (Actually, she was not yet my wife, but it is easier to say my wife's car than my future-wife's car or some other nonsense like that.) The car was in this tiny garage and was up on the jack. It was not on jack stands. So when the earth started shaking, all I could do was get as far away from the car as I could (which was only about a foot away), and hope and pray it did not fall on me. Looking back on it now, I realize that even if I had half the car raised up, it would have just fallen straight down. But I was not in a place to think through the physics of the situation since I was in a confined space with a two-ton vehicle raised up on a jack and the whole thing wiggling and jiggling while the earth shook. Needless to say, I was thankful that the shaking did not last too long and that the vehicle was still on the jack. And now I am grateful for the folks who rotate my tires every six months or so.
The second earthquake taught me a little about earthquake preparedness. I was in my classroom just talking to students while they worked when the earth rolled underneath us. One of my students screeched a bit and asked if we were supposed to get under the desks or something. Another just sat there and said he had been through lots of earthquakes in California and this was nothing. The rest sat there or ducked a bit, but did not say a thing. I just stood there. The quake was over in a couple seconds, but the projector was still swaying a bit. That was when I realized that earthquake preparedness is not all it is cracked up to be. At least not for a three second quake. We did not really have time to get under the desks. (Maybe a couple people made it.) We certainly did not have time to panic and run screaming out the door. But I knew that I could take care of my students in the aftermath of a big quake. I could keep them calm and I could make sure everybody was safe and sound. After all, I knew (and still know) first aid.
I am certainly not making fun of earthquake preparedness or earthquakes in general. I just know that I am an earthquake wimp. And I know I would certainly not like to be in any that are bigger than the three that I have endured. (I think the largest was a 5.0 on the Richter scale.)
The latest earthquake I endured was last weekend. Like I said, it woke me up just before 3 am. I knew it was an earthquake right away, but I did not panic. I just knew it was an earthquake. And I knew my youngest son was still up, so I checked to make sure he was okay. That he was not too shaken up by the event. (I know. It is still a bad joke.) I also checked to make sure there was no gas leaking in the kitchen. (I had visions of gas pooling invisibly on the floor.) And after the second little shake (which felt like a truck rumbling by), I went back to sleep.
I am not very fond of earthquakes. And I hope I only experience minor tremors like the three so far. Especially, if the worst thing that happens is that I get woken up at 3 am by the earth shaking.
© 2019 Michael T. Miyoshi