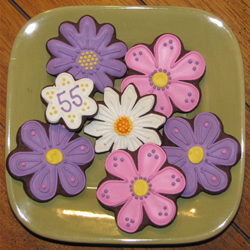 I have written about my friend's Bake and Release mentality, but now it is time to get into her business a little.
My friend, Chelsea, is a great baker. She bakes cookies and cakes and all sorts of goodies. Then, she lets them go out into the wild. Actually, she makes the treats for special occasions or gives them away to friends and family. She loves the process and the finished product, but she does not necessarily want the calories all to herself. Which is why she bakes and releases.
Those of us who work with Chelsea have enjoyed her delectable treats for years, but now others can as well. Chelsea has become an entrepreneur and is selling said treats to those who want them. (Get the business pun now?)
I am not sure exactly how it all started, but I am sure getting to the point of selling her treats went something like this:
"Wow! These cookies…" (or cupcakes or cakes) "…are fantastic! And they're works of art!"
"Yeah. These are amazing."
"You made them?"
"Yes." Chelsea surely blushed and demurred, "I did."
"Wow!"
"You ought to sell these things instead of just baking and releasing."
"You really think so?"
"Oh yeah."
"You bet."
"Amen sister. You could make a mint."
"At least mint cookies." (Another pun, if you missed it.)

Image courtesy of Bake and Release by Chelsea.
I am sure there were several conversations like the one above before Chelsea gave it any real thought, but seeds were surely planted each time somebody raved about her baking. Those raves were transformed into likes when she posted pictures on her personal Facebook and Instagram feeds. So she decided to take the next step and put out her business Facebook (Bake & Release by Chelsea) and Instagram (bakeandrelease) pages. Now, the world can see the pictures she takes of her treats.
Of course, she did get a little anxious with an order I made. And we almost blew the surprise cookies for my wife's, The Mindboggling Mrs. Miyoshi's, birthday. It was actually entertaining.
Chelsea did not know that my wife was following Bake & Release by Chelsea, so she (Chelsea) was surprised when The Mindboggling Mrs. Miyoshi posted something about the cookies she (my wife) wanted. My wife had actually told me to get those cookies and I had ordered them a week earlier. But when she told me the exact cookies she wanted had shown up on Chelsea's page, she was curious.
"Did you order those cookies from Chelsea?"
Thankfully, I was in the other room so she could not see my face. "What are you talking about?"
"Those chocolate sugar cookies I wanted for my birthday. Did you order them from Chelsea?"
"I still don't know what you're talking about."
"Chelsea put up pictures of the exact cookies I want for my birthday."
"Okay."
Well, my wife decided to go to the source and posted on Bake and Release by Chelsea. It was the second post on that particular photo. So naturally, Chelsea just told The Mindboggling Mrs. Miyoshi that the cookies were for her husband. Or something like that.
It worked out great in the end. The cookies came as a wonderful surprise. They were so artful it was difficult to eat them. Okay. Not really. They really were individual works of art, but they were also delicious treats. We savored each one with our eyes and with our noses and with our taste buds. Yum.
I must say that I am not totally pleased that Chelsea has gotten entrepreneurial. Oh I am excited for her as she goes off on a new venture. I am even rooting for her to make it big. (Who knows, maybe we will see her on The Great American Baking Show (or one of those shows).) But I cannot help but be a little selfish and think that her success will mean we will not get to see or smell or taste as many of her bake and release treats. Regardless, I will always root for my friend and her new venture. So getting into her business a little, I need to tell you to check out Bake & Release by Chelsea. And let all your senses feast on her treats.
© 2017 Michael T. Miyoshi
Comment
Commenting is closed for this article.